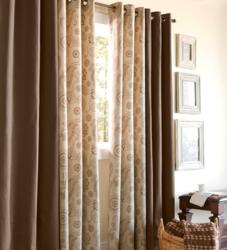 Insulated curtains offer a stylish way to save on monthly energy bills.
Madison, VA (PRWEB) January 14, 2013
According to the California Energy Commission, 30% of a home's energy can be lost through its doors and windows. A 1/32"gap around a 36" x 60" window is the same as having a 6" hole open to the outside. Since windows outnumber doors, it makes sense to give them the most attention.
There are several options for the homeowner. One option is to replace windows, but the cost of doing so can be prohibitive. A more reasonable option may be adding insulated curtains to the home. Insulated curtains improve energy efficiency as well as add to the décor of a room.
With temperatures steadily dropping and energy cost continuing to rise, Thermalogic™ energy efficient insulated curtains are quickly being recognized as an energy efficient system, protecting your home from conduction, infiltration, convection and radiation that occurs through and around windows. Thermalogic™ insulated curtains are backed with a lining of 100% acrylic foam that creates a barrier against drafts, helping to maintain a constant room temperature year-round, Foam backing can reduce heat loss as much as 44%.
Insulated curtains can save money on monthly utility bills while offering a quick and easy way to freshen up any room of the home, adding beautiful colors and patterns from various styles offered. In addition to saving energy cost, Thermalogic™ insulated curtains are also great for eliminating unwanted noise up to 46.3% and up to 95.3% of reflections and damaging outdoor sunlight. A great investment for any room of your home!
Looking for Thermalogic™ Energy Efficient Insulated Curtain? Plow & Hearth offers a variety of styles made of cotton with a rich attractive finish, substantial weight and a soft feel to compliment interiors while reducing heat loss.
About Plow & Hearth
Plow & Hearth began as a small retail store in Madison, Virginia in 1980 and has grown to become a respected national catalog, retail and Internet company with more than 5 million customers. For over 30 years, the company has been a trusted source of unique, enduring products for the hearth, home, yard and garden, helping customers create an environment that is comfortable and welcoming, warm and personal. As part of their product development initiative, Plow & Hearth works with artisans and manufacturers around the world to develop innovative products created from uncommon materials and crafted by hand. Special consideration is given to those products made with environmentally friendly materials as well as products that will encourage customers to be more environmentally responsible, such as composting products and energy savers. Every item they sell is backed by a 100% satisfaction guarantee. The Plow & Hearth Family of Brands also includes quality toys from HearthSong® and Magic Cabin®, weather instruments from Wind & Weather® and innovative solutions from Problem Solvers®