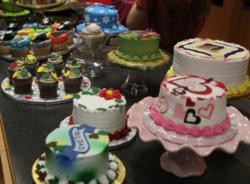 No matter what your skill set is, you can easily use these products to create amazing cakes." Mike Terry, CMSA
Winchester, Virginia (PRWEB) January 15, 2013
Icing Images will unveil innovative new products in edible paper art on the Balancing Act on Lifetime Television, January 17th at 7:00am EST. These new products were designed to make any type of cake or confection decorating simple, easy and creative, using inexpensive craft tools and icing sheets and little to no prior cake decorating experience. The show will focus on the ease and versatility of these products - ideal for family fun or the hobbyist or novice cake decorator.
Debbie Coughlin, owner of Icing Images, and her 12 year old daughter Jackie, will demonstrate how the new products will give hobby or in-home cake and confection decorators the capability to easily create edible paper art. They will also show how edible markers can be used to write on the icing sheets to give decorators an easy way to personalize their creations.
Professional cake designers incorporate edible paper art into their cakes using icing sheets (also known as frosting sheets) with punches, cookies cutters, scissors, scrapbooking tools and electronic cutting machines, such as the Silhouette Cameo. The sweet tasting icing sheet is cut with the arts and crafts tools into endless shapes and then adhered with a small amount of moisture to cakes, cupcakes, cookies, candy, or any kind of confection.
Debbie is a self-described non-decorator who aims to show how even someone with no experience can create custom designs that look great. "If I can decorate well with these tools, anyone can!" says Coughlin. Bringing Jackie to the appearance will also show how easy it is for kids to create edible paper art as well.
Mike Terry, a Certified Master Sugar Artist who has appeared on TLC's Ultimate Cake Off, will also be on hand to demonstrate how professional cake decorators can use the new products to streamline and simplify their decorating without losing any quality in their artistic work. "I love the Icing Images icing sheets paired with cutting tools. No matter what your skill set is, you can easily use these products to create amazing cakes," says Terry. He will be showcasing confections that he decorated using the new colored icing sheets and cutting tools on the show.
Since 1999, Icing Images has been a leader in edible technology offering edible paper art supplies, edible printing supplies, edible ink cartridges, icing sheets, electronic cutters and other supplies for the professional baking industry. For customers who do not own an edible image printer, Icing Images also offers custom edible image printing that can be ordered online.
The company is excited to expand their market to serve family and hobby cake decorators.