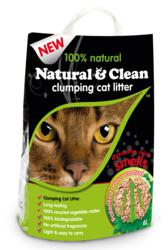 Totally organic and 100% biodegradable - including the packaging
Kent (PRWEB UK) 16 January 2013
In response to the long standing problem of sending waste to landfill incapable of breaking down, UK eco-friendly household and pet product manufacturer Natural and Clean have created a brand new biodegradable cat litter, created with the environment in mind to ease the amount of rubbish poured into landfill sites.
Natural and Clean believe in making a difference by creating and introducing consumers to a cleaner, healthier way of living through innovation and productions of products that deliver results beyond expectations and put the environment first. Their completely organic cat litter is 100% biodegradable along with the packaging which all decomposes within 7-10 days whereas standard clay or silica based litters are not only 50% heavier - they also take longer to break down - sitting in landfill sites for many years to come.
Landfill sites are slowly running out of space and the government needs to act fast in order to dissuade businesses and households from unnecessary pollution. Last April landfill tax rose from £56 to £64 per tonne making it the fifth consecutive year the tax has risen by £8 with the trend set to continue for 2013.
Since the 2007 publication of the Governments 'New Waste Strategy for England and Wales' following from their original policy and its success in the year 2000 many changes to how waste is produced and disposed of in the UK have been brought into place. This includes the current tax escalator as a method to incentivise local councils, businesses and households to promote and consider recycling and a greener way of living. This increase in public awareness advocates alternative methods to landfill such as the use of biodegradable and re-usable products and packaging.
As a result, businesses and a large majority of Britain's best known retailers, including Asda, Boots and Tesco set themselves strict targets on waste they produce which will end up in a landfill site and have been promoting recycling and practicing converting organic waste to fertiliser since joining the voluntary 'A Better Retail Climate' initiative in April 2008.
Kent based Natural and Clean are among these pioneers of greener living and in response to a long standing problem have specially formulated a brand new and unique cat litter which is 100% biodegradable, made from 100% recycled vegetable matter and is contained within 100% recyclable packaging.
In 2010/2011 50% of local authority waste was sent to a landfill compared to the EU average of just 40% and non-recyclable cat litters, such as clay or silica based brands significantly contribute to the 290million tonnes of waste and as a result, local councils are beginning to refuse waste collection if it is suspected to contain cat litter or if bins are unduly heavy.
The 100% natural clumping cat litter from Natural and Clean is made from waxy hull-less barely which has been developed to yield an extremely high starch level to absorb large amounts of moisture and provide the firm clumping most cat owners prefer. This means pet owners can easily and hygienically compost or reuse their product at no consequence to the environment.
Natural and Clean cat litter has specifically been formulated with a patented odour control formulation which removes smells rather than masking them with chemicals and does not attract pest like insects or rodents- making this product perfect for composting, using in gardening or because of its natural soil-like texture making it ideal as hygienic bedding for birds and small animals.
Natural and Clean are proud to bring to market a cat litter which is both safe for kittens and cats but also safe for people and planet too – helping to reduce our carbon footprint and offer the public an alternative to landfill and waste, as sanctioned by the government.
From deep cleaning products to their biodegradable cat litter, Natural and Clean's safe and environmentally friendly products make this a lifestyle brand worth knowing.
The 100% biodegradable cat litter is now availabl in UK Tesco stores or Tesco Online and from http://www.naturalandclean.com