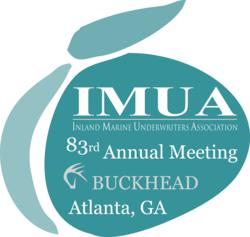 The 'Parallel Tarck' is geared to those new to, or less experienced in, commercial inland marine insurance
New York, NY (PRWEB) January 16, 2013
The Inland Marine Underwriters Association (IMUA) announced that the Atlanta, GA suburb of Buckhead will be the site of its 83rd Annual Meeting. The dates of the IMUA Annual Meeting are May 19-22, 2013.
With emphasis on professional development, IMUA announced that it will once again include a "Parallel Track" to its traditional educational programming this year. IMUA introduced this educational addition at its 81st Annual Meeting in Chicago. The "Parallel Track" is specifically geared toward newer, less experienced inland marine underwriting and claims personnel.
In making the announcement, IMUA President and CEO, Kevin O'Brien, said, "Our 'Parallel Track' will consisting of a series of seminars and workshops patterned specifically after our Introduction to Inland Marine Course and will run parallel to the more in-depth educational sessions offered during the Annual Meeting. This approach, which was successfully implemented two years ago at our Chicago meeting, is geared to those new to, or less experienced in, commercial inland marine insurance. Those attending the 'Parallel Track' will also have access to our general sessions including the kick-off, keynote session."
O'Brien notes that "Parallel Track" participants will also have the opportunity to interact with more seasoned industry professionals and participate in Annual Meeting receptions, recreational activities and trade show.
IMUA Chairman Peter Opinante, further commented, "We are very excited about scheduling this format for our Annual Meeting educational agenda. It is the direct result of numerous requests from our membership for the opportunity for their less experienced personnel to take advantage of our professional development opportunities. And, it also represents our goal to reach out to agents and brokers who may or may not be familiar with the many facets of inland marine insurance. We encourage our members and friends in the producer community to take advantage of this exciting educational and networking opportunity."
For more information visit IMUA's website http://www.imua.org for more details on the final schedule of educational seminars and workshops which are nearing completion.
For more information visit http://www.imua.org or contact Lillian Colson at IMUA, 212-233-0550.