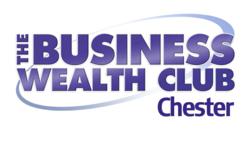 The fact that Gavin is in demand by organisations such as Ford, United Biscuits and HSBC is testament to his skills and the results he delivers.
Chester, Cheshire (PRWEB UK) 16 January 2013
The world's most powerful business training, coaching and support network - The Business Wealth Club - is coming to Chester this month.
Hosted by Chester-based leading business mentor and coach, Gavin Preston, the innovative format, founded eight years ago by award-winning business coach Paul Avins, has attracted a large number of passionate business owners and entrepreneurs from all over the UK who are keen to learn how to boost their sales and profits to achieve greater success in today's challenging economy.
"Gavin has a very impressive 11 year track record of raising the performance of blue chip corporates and small to medium businesses across the UK and internationally," said Paul. "The fact that Gavin is in demand by organisations such as Ford, United Biscuits and HSBC is testament to his skills and the results he delivers.
"The Business Wealth Club prides itself on appointing mentors to its franchises who bring a mix of real world results, experience and a passion to make a difference in their local business community – Gavin is no exception," he added.
Now a published author and frequent business speaker across the UK, 39-year-old Gavin started his career qualifying as a chartered accountant with KPMG and then worked for BAE SYSTEMS in consultancy roles and developing leadership and coaching skills in their top directors across the world. He went on to serve an apprenticeship with some of the best in areas of performance improvement, behavioural change, coaching, training, mentoring and facilitation. For the last decade he has been running his own successful consultancy Gavin Preston: Performance Accelerator.
"I've experienced great success and been blessed to work with some amazing people in my business life," said Gavin. "But I also know what it's like at the coal face running a growing business and working long hours. Like all of us in business, I have had my fair share of challenges such as unexpectedly losing a key contract and having to juggle cashflow whilst winning new clients. I also know how other business owners feel and the price you can pay for not structuring your business for success. And I want to help set up businesses for success.
"I have a vision of a vibrant business growth community with dynamic business owners doing deals whilst learning leading edge strategies to grow their businesses with the support of world class mentoring.
"I am passionate about helping business owners in Chester, the Wirral and North Wales get back into growth. The knowledge and experience of Paul and the Business Wealth Club compliments my own thereby enabling me to bring a proven business growth community to Chester," he added.
The Business Wealth Club is for business owners who are determined to accelerate the growth of their business. Businesses that are established and have had early success, but are now ready for the next phase of growth. The Business Wealth Club is for entrepreneurs across all industries and service professionals across all sectors including accountants, consultants and coaches, retailers, and internet based businesses.
In the last eight years The Business Wealth Club has trained almost 1,000 owners of small and medium sized businesses across hundreds of industries and has been a source of positive and practical support during the challenging days of the recession.
The launch event of the Chester Business Wealth Club is at 7.30am on Friday, January 25 and will be held at the De Vere Village Hotel, Ewloe, Chester. After breakfast, Gavin will deliver a workshop entitled '7 Deadly Sins of Marketing - and how to avoid them'.
Full details on club membership and special introductory rates will also be shared during the morning. To grab one of the 40 seats available at the launch of the Chester club, call 01244 960 292 or register online today at http://www.businesswealthclub.co.uk/chester.