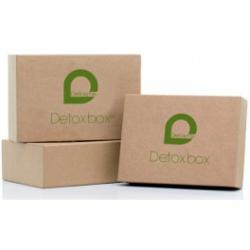 Detox.me is proving to be the go to site for health and wellbeing and we have a great range of writers and editors delivering excellent content on a daily basis as well as some excellent products to help the consumer on their way
London (PRWEB UK) 15 January 2013
The Detox Box from Detox.me is the perfect way to start the New Year. The box has been specifically designed to help kickstart the detox process.
The team of experts at Detox.me has put together a range of boxes that will help the user through the detoxing process after the indulgences of the festive season.
The Detox Box looks at the four key areas of detoxing: inner body, outer body, knowledge and detox experiences and is a great way to really cleanse the body and help the user feel revitalized and energised
"As expected the New Year is proving to be a great time for people to start their detox. We've seen a far higher response this year, both to the Detox Box as well as other detox products, as more and more people are determined to get themselves back in shape" said Milan Panchmatia, Founder of Detox.me.
Detox.me has a wide range of articles, blogs, forums and resources to help the user through the detoxing process and is designed to be the premier online destination for all things related to detox.
"Detox.me really is proving to be the go to site for health and wellbeing and we have a great range of writers and editors delivering excellent content on a daily basis as well as some excellent products to help the consumer on their way" Milan went on to say.
Detox.me engages it's users in a variety of ways and can be found online at Detox.me as well as on Facebook, Twitter, G+ and Pinterest
This combined use of social media as well as the more traditional methods of communicating with users allows Detox.me to reach the widest group possible and get the core messages of health and wellbeing out there.
"This combination of high quality editorial, a vibrant online community as well as the best detox products available, makes detox.me a great place to learn and share about detoxing" said Milan.
Detox.me are also running a competition in January and February, available to all users who "Like" detox.me on Facebook. The prize is one of the Rejuvenate Me! detox boxes which includes an £80 Spa treatment voucher redeemable at 2500 locations across the UK.