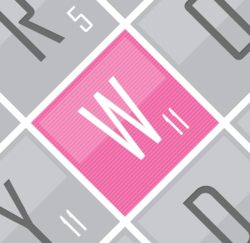 As brand new independent app developers in Canada, we are excited to launch our first game on the iTunes App Store
Toronto, Ontario (PRWEB) January 16, 2013
Canadian indie app company Ten Eighteen Studios Inc. announced Tuesday the launch of their first game, WordWorthy. Available now for iPhone on the iTunes App Store, WordWorthy is an exciting new take on word games, combining a slide-tile puzzle with word-building action.
Players find and build words in a grid of random letters by selecting adjacent letters. One empty letter square allows players to re-arrange the letters on the board to spell longer and "worthier" words. The worthier the word, the better the score. Armed letter squares and stone letter squares pop up when players get lazy – spelling too many three-letter words or the same word too many times. It's game over when a player doesn't make a word with the armed letter square before its timer runs out.
WordWorthy's motto is "Learn something new everyday, every time you PLAY!"
"We've played a lot of other word games, and our feeling is that they are highly addictive but you are not actually learning much," says co-creator, Mercedes Grundy. "WordWorthy's high-level vocabulary 'challenge' words give players the opportunity to improve their spelling and learn new vocabulary while they play."
Co-creator and designer, Joseph Gatto, adds, "WordWorthy is addictive, so we wanted to complement the game-play with a fresh and sophisticated design that's easy on the eyes when you play for long periods of time."
Features include:

Challenge Words – high-level vocabulary words complete with definitions
Bonus Picture Game – takes a photo from your own photo library and turns it into a slide-tile puzzle
Top Words – keep track of the best words you've ever spelled
WordWorthy is now available for $1.99 on the iTunes App Store.
Download it at http:// http://www.itunes.com/apps/wordworthy
More information and our press kit can be found on our website at: http://www.wordworthyapp.com
Watch the WordWorthy demo video: http://youtu.be/BHY8E2yBty4
For additional information, please contact Mercedes Grundy at mgrundy(at)wordworthyapp(dot)com
About Ten Eighteen Studios Inc.
Ten Eighteen Studios Inc. is a brand new independent app development company, based in Toronto, Canada. Founded by Joseph Gatto and Mercedes Grundy, Ten Eighteen Studios is dedicated to developing mobile applications and digital content with a focus on fresh design and usability to engage and entertain players. WordWorthy is their first game.