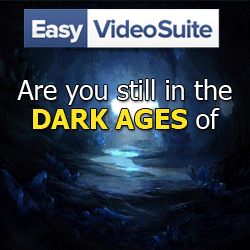 No Install - Drag & Drop Simplicity

Most Powerful Video Marketing Solution Ever
San Diego, CA (PRWEB) January 14, 2013
EasyVideoSuite (EVS) is the follow up to the highly prized EasyVideoPlayer 2 (EVP2) which launched in 2010 by Josh Bartlett and has helped more online marketers dominate the video marketing industry than any other software.
Nowadays, online marketers turn to the use of videos to share their stories and pitch new products to affiliates and customers. According to comScore, over 100 million internet uses watch at least one online video per day and 90% of online shoppers say that a video can help them make a decision on whether to buy a product or not.
Online videos can consistently keep viewers on a webpage longer and keep them more engaged than if the website only had text and images. comScore reports that viewers stay on the website an average of two minutes longer if a video is present on the website and 64% of visitors are more likely to buy a product or service.
The simple fact is, that online video marketing can essentially explode an online money making business.
EasyVideoSuite helps marketers streamline the video marketing process by creating easy-to-use software that can record, convert, publish, market, and track real-time statistics on videos.
Most online marketers simply do not have the knowledge to create a fully web optimized video that can be displayed on all types of devices without having to pay for a video editing service. Not only can EasyVideoSuite help create dynamic videos, but it can provide real time statistics about the viewers who watch the video.
EasyVideoSuite (EVS) is a complete video software package that consists of three main components; Desktop Application, Web Based Application, and a Mobile App.
The EVS desktop app is an application that is used on the computer that allows marketers to record, convert, and upload video files. Marketers can literally drag files into the application and EVS will convert the video into a web optimized format.
On the EVS Web Based Application, marketers will be able to manage, publish and track in real time all video files. Marketers will be able to manage their entire video marketing strategy by seeing which videos are getting the most views and producing the most revenue. With the real time tracking, editors will be able to see exactly how many times the video has been watched in full or at one point in the video viewers are exiting out. This feature has been highly requested among video marketers so that they can split test videos and go back and re-edit a video to make it more desirable to viewers.
The last component in the EasyVideoSuite is a Mobile application that lets users manage and keep track of video statistics on the go.
Video Marketing managers and individuals looking to get a jumpstart on the competition can turn to EasyVideoSuite by Josh Bartlett to streamline the video marketing process and help turn viewers into buyers. The fact is, video marketing increases sales and leads! Without a video marketing strategy, viewers will leave the site quicker and that is something most marketers cannot afford to lose.
EasyVideoSuite is available for sale starting on January 15th, 2013.