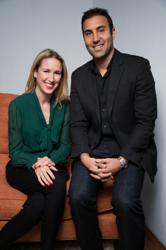 New York, NY (PRWEB) January 15, 2013
PureWow, the premier women's lifestyle digital publication, announced today that former Real Simple Senior Editor Mary Kate McGrath will become its first editor-in-chief. McGrath will be responsible for PureWow's editorial strategy for its local and national email editions as well as the expansion of its website, PureWow.com. With more than 10 years experience in developing lifestyle content, McGrath will be instrumental in PureWow's mission to provide unique, under-the-radar discoveries to Gen X women across the country.
"PureWow built a devoted audience in a very short period by listening to our subscribers and giving them what they want. Our readers are always asking for more and we know that Mary Kate's experience in developing relevant and exciting editorial programs for women will play a key role in broadening our content offering," said Ryan Harwood, CEO of PureWow. "In Mary Kate, I have a partner who can lead the way in expanding the PureWow brand across multiple platforms."
Added Bob Pittman, a founding member of Pilot Group, a PureWow investor: "We couldn't be more pleased with the success of PureWow, which continues to see incredible growth as it provides real service and value to its vibrant, interested and dedicated audience. Now it's time to capitalize on that growth by bringing in talent like Mary Kate to further engage the PureWow community."
McGrath will lead the charge in growing PureWow's audience of more than 1.5 million subscribers by creating unique content on the topics Gen X women care about most, from fashion & beauty to home decor, tech, travel, recipes and books. She will be responsible for the editorial direction of the brand, including the launch of new geographical and content-specific editions, social programs and the introduction of original web features including a video channel.
At Real Simple, McGrath oversaw the most popular section of the magazine, Solutions, including franchises New Uses for Old Things and Problem-Solving Products. McGrath had a significant impact on the magazine's digital following as she worked to develop the brand's Pinterest presence and helped conceptualize Real Simple's iPad app. She also edited cover stories regularly and co-edited the Real Simple Family special edition.
"I'm thrilled to be making the full transition into digital. I'm excited to work with the amazing team at PureWow to share ways women can make their lives easier, more interesting and more fun," McGrath said. "As we all get busier and overcommitted, it's important that women can get trusted recommendations delivered directly to them."
Prior to Real Simple, McGrath was a senior editor at Food Network Magazine where she produced entertaining features with celebrity Food Network chefs. McGrath also spent five years as an editor at InStyle Magazine coordinating all of the home, fashion and beauty products featured in the Life, Etc. section of the main magazine as well as InStyle Home and InStyle Weddings. There, McGrath also developed several trend features including The Best Design Trends Right Now, 25 Decorator Tips and Having A Moment. McGrath started her career as an assistant editor at Travel & Leisure Golf Magazine. She holds a Bachelor of Arts degree in politics from Fairfield University.
About PureWow
PureWow is the premier women's lifestyle digital publication. PureWow delivers first-hand, informed advice for savvy Gen X women who are eager to stay in the know, whether they are career women, moms, married or single. PureWow's content covers a wide range of categories that women are passionate about, including the best in culture, fashion, beauty, travel, tech and more. Subscriptions to PureWow are free and require only an email address. PureWow editions include: National, New York, Los Angeles, San Francisco, Chicago, Dallas, Hamptons, Recipes and Books & Authors.
PureWow is backed by the Pilot Group, which has developed several successful daily email publications, including DailyCandy and Thrillist, and by the women of wowOwow.com, including Whoopi Goldberg, Joni Evans, Candice Bergen, and Liz Smith. Some of PureWow's marquee advertisers include Bloomingdales, Unilever, PepsiCo, Cadillac, Cartier, CBS, Chase, Procter & Gamble, Smuckers, Toyota and Visa.