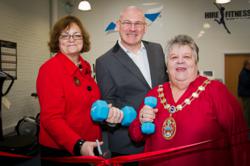 ''We're very proud of what we've created and we'd like the centre to become a fitness hub where local people can come and get fitness tips and advice from our trained staff.'' Paul healey, Founder of Ultim8 Fitness
(PRWEB UK) 15 January 2013
This exciting new outlet centre situated in the heart of the Slough Trading Estate on Buckingham Avenue, showcases state-of-the-art fitness equipment including all popular types such as treadmills, cross-trainers, rowing machines, exercise bikes and vibration-plates, plus revolutionary beauty equipment that can all be hired for 4 weeks or more, or purchased. All the equipment can be tried before you commit to hiring or buying and there's also a range of exciting fitness accessories to make exercising that much more fun. Upstairs in the Ultim8 Beauty rooms, non-invasive CaviSculpt treatments are available to painlessly smooth fine lines and wrinkles and to painlessly and quickly remove unwanted fat from the body.
The centre was officially opened by the Mayor of Slough, Councillor Christine Small and Fiona Mactaggart MP. Staff and other guests gathered to celebrate the opening at an official ribbon cutting ceremony last week.
Talking at the launch, Paul Healey the Director and Founder of Ultim8 Fitness said: "We're very proud of what we've created and we'd like the centre to become a fitness hub where local people can come and get fitness tips and advice from our trained staff, our growing network of Personal Trainers and our ever increasing range of fitness videos available online."
Ultim8 Fitness, trading as Hire Fitness, began with the first pilot office in Windsor 12 years ago and it's now the biggest fitness equipment hire company in Europe with 14 offices across the UK and Ireland. Equipment is delivered to your door and discounts are available for longer hire periods along with equipment swaps to maintain motivation plus 24 months interest free credit if equipment is purchased online. Ultim8 Beauty franchises are available offering affordable franchise opportunities that come with an attractive achievable return on investment and healthy income.
For further information visit http://www.hirefitness.co.uk or http://www.ultim8beauty.com or call 0845 226 1233 for equipment hire and sales or 01753 692255 to book beauty treatments.