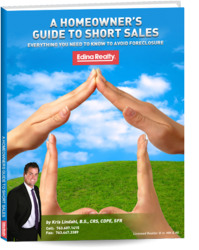 It's the least I can do to bring this information to the public.
Blaine, MN (PRWEB) January 14, 2013
Kris Lindahl announced this morning that he will be hosting a short sale strategies seminar in Maple Plain, MN later this week. Lindahl is Edina Realty's number one short sale agent. The seminar will reveal several strategies to simplify the short selling process. Lindahl plans to use examples from his many years of experience to present the process in a step-by-step presentation. Reservations will be taken through Wednesday morning and walk-ins are welcome and encouraged.
"I wanted to get a better sense of the community around me," Kris Lindahl said when asked why he launched a seminar series. Following the presentation he will take an hour to field personalized questions from the audience. "It's the least I can do to bring this information to the public," Lindahl said.
Kris is the recent recipient of the Chairman's Award, the highest honor an agent can receive, from Edina Realty for excellence in sales and sales volume. Lindahl credits his success to a technological expertise that gives him the edge over other agents nationwide.
Call Kris and his team at (763) 607-1415 for more information. Visit the Minnesota Short Sale Calculator website to check eligibility. Download a complimentary copy of the eBook titled "A Homeowner's Guide To Short Sales" and check out the video series on YouTube.