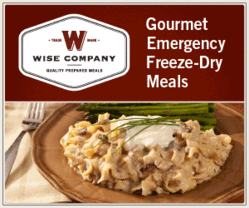 New York (PRWEB) January 20, 2013
FreeCouponReview.com is an online portal that reviews different products, services and the discount coupons and deals offered by various online businesses.
The website reviews the latest products and services across all categories of businesses ranging from beauty, cars, entertainment, food & drinks, down to gardening, health, and more. And, they have recently published a detailed review of food storage service and coupons offered by Wisefoodstorage.com.
Click here to go through all the food & drinks related reviews by FreeCouponReview.
The Wise food storage review explains how the company efficiently manages storage of food for long term needs, camping meals and emergency situations. A brief summary of website states - "Wise Food Storage from Wise Company is the best known and the only brand endorsed by the top experts in this field. They very much specialize in long term food, emergency food as well as camping meals which have the longest shelf life ever and hence making it the best source of food for all our camping and adventure needs. All these are great products endorsed by the experts in adventure travel and camping."
The marketing manager of FreeCouponReview.com was quoted as saying –
"Product review websites are always in high demand and there always is a need for websites that publish unbiased reviews of products and services offered by different companies. In today's world of Internet and faster access to information people usually don't purchase a product before going through few of its reviews. FreeCouponReview.com is one such website that solves this purpose with its unbiased review of products, services, coupons, discounts etc offered by different online businesses and websites."
The review also highlights the limited time offer of 5% discount and gives the coupon code for the same, which offer also includes free shipping. A separate coupon code is provided for availing free shipping on all the other purchases made on Wisefoodstorage.com. The packages offered by the food storage company are extremely flexible too.
It also covers the need for long term food storage services, and states - "These Long Term Meals are ideal for those suffering from long term illnesses or injuries and unable to prepare any food. Or during the time of food shortage, natural calamities, and any other emergency situations that one might face any time of the year. Just buy any emergency meal and keep stock of it at home or anywhere and consume it for months even when there is severe food shortage or food crisis during such time."
FreeCouponReview.com also offers a host of discount coupon codes, such as Wise food storage coupon.
About the Company
FreeCouponReview is an online product and service review website, which also mentions about new deals, discounts and coupons offered by the companies being reviewed. The website reviews services and products from all categories, right from business, sports, clothing, travel to web hosting and many more.
Take a look at a host of product reviews published on http://www.freecouponreview.com/