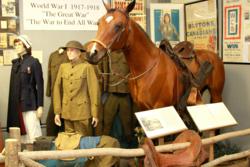 a step back in time to witness what life was like...
Jasper, IN (PRWEB) January 21, 2013
When strolling through the Dubois County Museum, for some it is a trip down memory lane, for others a step back in time to witness what life was like in the early 1900's. This one-of-a kind museum offers unique displays on the area's German heritage and culture, the history of the successful national and international manufacturing companies located in the area, a large exhibit of antique farm machinery, a Main Street Dubois County exhibit and so much more.
Originally located in the historic Gramelspacher-Gutzweiler House in downtown Jasper, the museum started in 1999. In 2004, it moved to its current location at the former Kimball/Jasper Corporation factory building. The Dubois County Museum offers annual programs and exhibits in the 47,000 square foot display area, making the Dubois County Museum one of the largest county museum in the state. The collection of artifacts has grown close to 32,000 items and continues to rise as local residents donate historic and antique tools, photos, farm equipment, artifacts, and anything that has significance to the history of Dubois County and its German heritage.
The newest addition and permanent exhibit to the museum is the Main Street Dubois County and Little Pioneers children's room. It took several years in the making for creators, as well as, a very large team of volunteers to build the seventeen room, 6,600 square foot Main Street model town, lay the brick for the walkway, paint the buildings in historically correct colors, and obtain and gather items from the museum's collections to replicate the businesses from the late 1800s to early 1900s time period. The children's area offers the young visitors to the museum a unique interactive area complete with a replica of Lewis and Clark's keel boat, a dress up area, book nook, school house and toys to transport them back into time.
Upcoming programs and exhibits for 2013:
Now and extended through April 28, 2013-Dollhouse Display and Doll Silent Auction
For the young and the young at heart a temporary exhibit of dollhouses is opened and on display at the Dubois County Museum. On display is the complete collection of dollhouses created and built by Lela and Ron Greubel. The Greubels' had operated a dollhouse shop in Ireland, IN from 1986-2003 where they built and sold dollhouses and dollhouse furnishings of 1/12 scale. The shop was closed after Lela's death in 2003. The German dollhouse that was made by Greubels' is on permanent display in Exhibit Room II in the museum. It was modeled after Lela's 1850 ancestral home in Empede, Germany. Also on display will be a General Store; Strip Mall shops including a candy shop, a deli and a bakery; Becker's Law Office and Tea Time; Aunt Nellie's Sewing and Quilting; Bramble's Mercantile; the Loom Room; Dollhouse Shop; the Sweets Parlor; an 70 year old replica Jasper home purchased by the Greubels'; a Toy & Noel Shop; as well as a farm house, a wash house, and a Coke case displaying miniature Coca Cola items.
Also, seven unique dolls from the private collection of Ida Jo Temple are now on display at the Dubois County Museum to be sold by bids. At the request of her family, the proceeds from the sale of these dolls are to be donated to the Little Pioneer children's room for exhibits and programs.
Jan 5—"The Law in Dubois County", a permanent exhibit of artifacts from the sheriffs and police forces of Jasper, Huntingburg, Ferdinand, and Birdseye, including the FOP car used in parades.
Jan 24 Opening of an exhibit honoring St. Joseph Church at 175 years—a Joint Exhibit of Father Joseph Kundek and Saint Mother Theodore Guerin. Features artifacts from the founding of St. Joseph Catholic Church from Fr. Kundek's time; statues brought over from Germany by Father Kundek, also Mother Guerin's rosary worn at her side and the picture "The Death of St. Joseph" displayed above her bed. This is a temporary exhibit until Sept 30.
Feb 3—Unveiling of the St Anthony/St. Marks Mural. Program at 1:30. A mural of the communities of St. Anthony and St. Marks will join the collection of murals of Dubois County communities painted at the museum.
The museum is open Tuesday through Friday from 10:00-2:00pm, Saturday from 10:00-4:00pm and Sunday 1:00-4:00pm. Closed on Monday. The Dubois County Museum is a local non profit organization committed to the collection, preservation and interpretation of historical artifacts and information important to the citizens of the county. Museum operations are funded by annual memberships, donations and gifts from visitors, area residents and businesses. Admission is free; donations are accepted. The DCM staff consists entirely of volunteers. It is located in Jasper at 2704 N. Newton Street (US231). Call (812) 634-7733. Visit the museum web site at http://www.duboiscountymuseum.org for more information on future events.