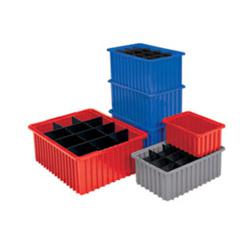 Akro-Mils is an industry leader and we are pleased to carry this product. These containers are extremely useful and can help any organization trying to be better organized with 5S. - Tony Manos, Lean Champion at 5S Supply
Frankfort, IL (PRWEB) January 15, 2013
One of the key elements of 5S or being organized is to "Set-in-Order" which means "A place for everything and everything in its place." By using Akro-Grid color-coded bins with clear lids and label holders any team member can quickly find what is needed -- no time wasted searching for things.
The bins come in nine different sizes, four colors and have options including: long and short dividers, clear lids, label holders and wheeled dollies. Get and stay organized with Akro-Grids. These containers can also be customize to fit specific needs with the optional dividers. The long and short dividers enable subdivision of the container down to a 1-1/8" square compartment so hundreds of different sizes can be created. The bins are injection molded from industrial-grade polymers, which resist most solvents and chemicals. Its ribbed design gives added strength and strong stacking ability. Akro-Grid containers are compatible with most racks, shelving, and automated material handling equipment. Colors choices are Red, Blue, Gray, and Clear. These stackable containers can be moved quickly and easily with the optional dolly for better material handling or creating a Lean Pull/Kanban System with items at Point-of-Use. These are perfect for holding parts, components or items for manufacturers, hospitals, office areas and even the home.
By using containers like the Akro-Grids organizations can have a better handle on inventory accuracy, shorten lead-times by having the right items where needed, optimize storage space by minimizing the footprint, and improve parts or component protection. For additional versatility, combine the Akro-Grids and dollies with Material Handling Systems like Mono Rails, Parking Slots, and FIFO Rail systems to complete a well-organized Lean Pull System.
Stop by http://www.5Ssupply.com for more information on how to apply lean principles or to improve any workplace. Call 888 4 LEAN 5S (888-453-2657) or drop us a line at info(at)5Ssupply(dot)com. 5S Supply is the premier provider of Lean supplies, training and services.