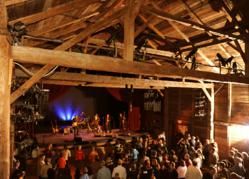 Vienna, Virginia (PRWEB) January 14, 2013
All shows are at The Barns at Wolf Trap 1635 Trap Road Vienna, VA 22182
Ralph Stanley
& The Clinch Mountain Boys
Wednesday, January 23 at 8 pm
$40
Ralph Stanley & The Clinch Mountain Boys
Legendary country singer Ralph Stanley returns to The Barns at Wolf Trap for the first time in over a decade along with his troupe, The Clinch Mountain Boys. Born and raised in Virginia, Stanley has navigated an epic music career of more than six decades. Early on, he formed The Stanley Brothers duo alongside his older brother Carter, with whom Stanley toured and recorded for 20 years. After his brother's untimely passing in 1966, Stanley decided to continue performing on his own with the support of the duo's band, known as The Clinch Mountain Boys. To this day, his successful solo efforts have made him a major force in the country and bluegrass worlds. His musical contributions have been recognized with numerous awards, including the National Heritage Award given by President Ronald Reagan (1984), a GRAMMY Award for Best Male Country Vocal Performance for his rendition of "O Death" in the film O Brother Where Art Thou (2002), a Living Legend Award from the Library of Congress, and the National Medal of Arts given by President George W. Bush (2006).
Video: Ralph Stanley – O Death
Livingston Taylor
Special Guest:
Chelsea Berry
Thursday, January 24 at 8 pm
$25
Livingston Taylor
Singer/songwriter and guitarist Livingston Taylor will again headline The Barns stage with his introspective lyrics and charming persona. While best known as a folk singer, Taylor incorporates a variety of styles in his original compositions, including pop, rock, gospel, and jazz music. His most recognizable hits include "I Will Be in Love with You," "I'll Come Running," "I Can Dream of You," and "Boatman." Taylor's musical journey began in the early '70s as a freelance performer in the Boston area. Since then, he has released 17 albums, maintained a busy performing schedule with an average of 80 shows per year, and collaborated with major artists, including his brother James Taylor, Linda Ronstadt, Jimmy Buffett, and Jethro Tull.
Video: Livingston Taylor – Good Friends
Chelsea Berry
Chelsea Berry will make her first appearance at The Barns as support for Livingston Taylor. The Alaskan singer/songwriter has shared her enticing folk-rock music throughout Montana, Nashville, and Chicago, and most recently in Boston where she is based. Berry's sound has been dubbed edgy and powerful, yet smooth, while featuring intense and compelling lyrics. She has opened for renowned acts, such as Patty Larkin, Buskin & Batteau, Jill Sobule, and Marshall Crenshaw, among others. Berry has performed in various venues in New England, including the House of Blues in Boston and Carnegie Hall in New York City.
Video: Chelsea Berry - EPK
Steven Isserlis, cello
Kirill Gerstein, piano
The Discovery Series
Friday, January 25 at 8 pm
$35
Musical powerhouses cellist Steven Isserlis and pianist Kirill Gerstein will treat audiences at The Barns and local classical music aficionados to a virtuosic duo recital. The prolific performers will present masterful renditions of Liszt's Romance Oubliée, Die Zelle im Nonnenwerth, Busoni's Kultaselle, Variations on a Finnish Folkson, Bartók's Rhapsody no.1, and Brahms's Sonatas no. 1 in E minor and no. 2 in F Major.
For more details about these artists, see the latest press release on The 2013 Discovery Series.
Tom Chapin
Saturday, January 26 at 7:30 pm
$22
Tom Chapin
Celebrated folk singer/songwriter Tom Chapin returns to The Barns at Wolf Trap since his most recent appearance in the spring of 2012. Chapin is perhaps best known as a performing and recording artist, but his career is also highlighted by appearances on Broadway, television, radio, and films. He began performing professionally with his siblings in the early '60s in New York City. His solo career took off in 1976 with the release of Life Is Like That, followed by 21 more full-length records and three GRAMMY Awards over the span of five decades. Chapin is also known for his role as host on ABC-TV's Make A Wish and TV's National Geographic Explorer, as well as for playing the lead role in the hit Broadway musical Pump Boys and Dinettes.
Video: Tom Chapin – Cats In The Cradle
Tickets can be purchased by calling 1(877)WOLFTRAP; or online at http://www.wolftrap.org.
For more information, call The Barns at Wolf Trap at (703) 938-2404 or our general information line at (703) 255-1900.