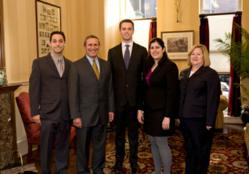 (PRWEB) January 17, 2013
The Law Firm of Pozzuolo Rodden P.C., announces the release of the following estate planning question of the month: " Will My Son Be Entitled To Governmental Benefits If I Place His Inheritance Into A Special Needs Trust? " If you would like to read other corporate law, or estate planning topics please visit: Philadelphia Estate Planning Attorneys
Will my son still be entitled to governmental benefits if I place his inheritance into a Special Needs Trust?
Our son is physically and mentally disabled. We are planning our estate and want to establish a special needs trust to handle the supplemental needs of our son after we die. We intend to fund the special needs trust with his inheritance. Will our son still be eligible for governmental benefits if we create and fund a special needs trust for his benefit?
The answer is yes. Your son may maintain eligibility for governmental benefits if you set up a proper special needs trust. Via a special needs trust, you will be able to provide for the needs of your son throughout his life. Meanwhile, if the trust is properly set up, it will not affect his eligibility for governmental benefits. Ultimately, your son's lifetime care will be funded by both the trust assets and governmental benefits.
A special needs trust is the ideal vehicle to finance your son's long term care for several reasons. First, a special needs trust preserves Medicaid eligibility. Generally, Medicaid will contribute to the long-term care of an individual if that person meets three eligibility tests based on (1) medical eligibility, (2) income eligibility, and (3) resource eligibility. Basically, to be eligible for Medicaid, you must be in a position of medical and financial need. For example, to meet the "asset limit" for Medicaid eligibility, most states require that individuals have no more than $2,000 in countable assets. Some assets, however, are specifically exempted. A special needs trust, which complies with state and federal law, is an exempted asset. In your son's case, his special needs trust would restrict his access to his inheritance in such a way that it would not be included as a countable asset. Assuming he met all eligibility limitations otherwise, he would be eligible for Medicaid.
Second, a special needs trust will preserve your son's eligibility for supplemental security income (SSI). Often, eligibility for SSI and Medicaid go hand-in-hand so that if your son is eligible for SSI, he should be eligible for Medicaid. The SSI is just another governmental benefit that could be used to pay for your son's basic needs.
Third, Medicaid often only covers significant medical bills. It does not pay for all the other less costly items of medical assistance, such as extra rehabilitation, food, clothing, or transportation. The funds from the trust may be used to pay for these other expenses.
Fourth, special needs trusts may be used in a variety of circumstances other than inheritances. In fact, there are 3 general types of special needs trusts: (1) first party, self settled trusts; (2) third party trusts; and (3) pooled trusts. A first party, self settled trust is funded with the beneficiary's own assets. Thus, the beneficiary's assets are excluded from the asset count for Medicaid eligibility. First party, self settled trusts are ideal in situations where the beneficiary receives governmental benefits and is set to receive proceeds from a lawsuit stemming from a personal injury.
A third party special needs trust is a trust in which a third party funds the trust for the benefit of the beneficiary. Third party special needs trusts are common when a parent or guardian wants to set up a special needs trust for the long term care of his disabled child. Often, third party trusts are set up for children in the will of the parent so that the child is cared for after the death of the parent.
A pooled trust is basically a large special needs trust. A nonprofit organization acts as trustee of the pooled trust and administers it in favor of multiple disabled beneficiaries. Each beneficiary of the pooled trust has a separate account within the trust. The accounts are pooled for investment and management benefits.
Each type of special needs trust is an excellent vehicle to assist in the financing of the long term care of a disabled individual. Each of the special needs trusts, though, is subject to various federal and state laws and regulations. Thus, when considering setting up a special needs trust, it is important to discuss your intentions with your legal and financial advisors to pick the best vehicle for yours and your loved ones' situation.
If you would like to read other corporate law or estate planning topics please visit our website at: http://www.pozzuolo.com/Pubs_Articles.shtml
Pozzuolo Rodden, P.C. provides specialized cost-effective legal services to privately held business owners and high-net-worth clients in Pennsylvania and New Jersey in excess of 35 years.
Practice Areas:
Business planning and transaction, complex business litigation, commercial real estate and development, construction law and litigation, advanced estate planning and administration, tax and pension law, high profile and intricate family litigation, and employment law and litigation.
Pozzuolo Rodden, P.C.
Counselors at Law
2033 Walnut Street
Philadelphia, PA 19103
215-977-8200
http://www.pozzuolo.com