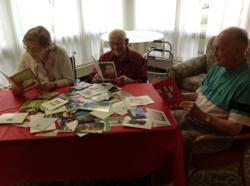 ... thank you for your help changing the way I think of life!
Arlington Heights, IL (PRWEB) January 14, 2013
More than 400 holiday cards from all over the world were delivered to residents in health care at The Moorings of Arlington Heights, a suburban Chicago retirement community and member of Presbyterian Homes. The cards were in response to a gratitude drive started at 500kindnesses.com requesting holiday cards with personal notes and well wishes be mailed to them. The cards were in thanks for their pledges of acts of kindness supporting Canadian Todd O'Reilly, 42, and his 14-year-old son in their "500 Acts of Kindness" cross-country bicycle journey from Toronto to New York City.
The cards arrived from as far as Australia, New Zealand, Norway, The United Kingdom, Canada and from the U.S. states from coast to coast. One person requested the first names of all of the residents and sent personal cards to each one. Others sent YouTube videos of themselves singing Christmas songs. Another shared an ultrasound of their baby soon to arrive. Some sent lengthy letters with family photos and asked if anyone wanted a pen pal. They said they missed the relationship with older adults in their lives who were now gone and would be happy to begin a new relationship with one of The Moorings residents.
"The residents were astonished by whom and how far around the world their acts of kindness were noticed," said Geri Wozniak, activities specialist at The Moorings. "We received cards from a class of autistic children, local schools, a Sunday school class and even one from a girl who lives at Herstmonceux Castle in East Sussex, England. The residents were further touched that a group of busy staff at Children's Hospital Los Angeles found a moment to send a Christmas photo and card."
Every morning, the residents read the cards together "as a family." They recorded from whom each card was sent and displayed them all around the activity room. Ms. Wozniak then organized residents to create return greeting cards to send back with personalized messages to those who had requested a pen pal. One of the messages received from an eighth grader in Stroudsburg, PA, read "To Angels on Earth. You truly are the example the world should follow. You're a godsend, thank you for your help changing the way I think of life!"
At 500kindnesses.com Mr. O'Reilly posted his thanks to those who sent cards and said "An act of kindness doesn't have to be huge or take a great deal of effort to make a huge difference people's lives. A card sent, a smile or a hug given, a meal shared – these things, when lovingly performed can be truly significant to another person…"
He continued "Most importantly, it also illustrates the power of turning ideas into action. We're all filled with amazing ideas, beautiful ideas, ideas that can do nothing short of change the world around us. But if we talk ourselves out of doing those ideas, find reasons that it won't work, or won't have the desired impact, then nothing will happen. In this case so many people … just did it."
###
About The Moorings of Arlington Heights
The Moorings of Arlington Heights is a Presbyterian Homes continuing care retirement community located in Chicago's northwest suburbs at 811 East Central Road in Arlington Heights, IL, just east of Arlington Heights Road. The Moorings provides independent living in apartments or villas, assisted living apartments, skilled nursing care, specialized Alzheimer's care, and rehabilitation services.
About Presbyterian Homes
Founded in 1904, Presbyterian Homes is a not-for-profit, non-sectarian organization with a national reputation for creating extraordinary retirement communities in the Chicago area. Presbyterian Homes serves older adults through its residential and healthcare programs on campuses in Evanston, Lake Forest, Arlington Heights and Chicago, IL. The organization is accredited by the Continuing Care Accreditation Commission, the nation's only accrediting body for retirement communities. For more information visit Presbyterian Homes.