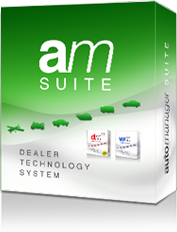 We see AutoManager Suite as the one-stop solution to all of a dealer's software needs.
Los Angeles, California (PRWEB) January 14, 2013
AutoManager, Inc., a Los Angeles-based dealer software company, announced Monday the debut of a bundled subscription to its DeskManager DMS and WebManager online marketing tool, starting at $600 for six months.
The new package, dubbed AutoManager Suite, is the first of its kind to target the coveted $100/month price point that's popular among upstart and small independent dealers, according to AutoManager CEO Kami Tafreshi. Each plan also includes in-house technical support via phone or live chat.
"We see AutoManager Suite as the one-stop solution to all of a dealer's software needs," Tafreshi said. "In the 21st century, it doesn't make sense for dealers to have their marketing software completely unconnected from their DMS. It's time to tear down that wall."
DeskManager DMS is one of the industry's most adaptable dealer management systems, developed and tested with nearly 30 years of feedback from independent auto dealers. DeskManager interfaces with the industry's most popular third-party services, provides access to thousands of electronic forms and handles virtually any kind of vehicle payment plan, including deals, leases, BHPH and LHPH. WebManager is AutoManager's online marketing tool, featuring a website builder, exports to more than 100 online marketplaces, a specialized listing tool for Craigslist and the ability to load vehicles and run history checks from a mobile device. DeskManager and WebManager can easily share data, reducing manual errors and double entry.
Though dealers have been using DeskManager and WebManager together for years, Tafreshi said the AutoManager Suite offering represents the first time they have been sold together at a discount. It also coincides with a strong push to integrate the two programs, most notably with DeskManager's new Data Exchange tool.
Dealers will be able to customize their AutoManager Suite system, with the ability to add upgrades like the QuickBooks Interface, WebPlus SEO service and the BHPH (buy-here, pay-here) module on a subscription basis. At launch, the Suite will be available at three basic subscription prices based on the volume of vehicles a dealer uploads to the Web each month.
For full pricing and a detailed list of features available in AutoManager Suite, visit the AutoManager home page at http://www.AutoManager.com.
About the Company
AutoManager is a DMS, online vehicle marketing and dealer website provider with over 25 years of experience helping independent and franchise dealers increase sales and business productivity. AutoManager now serves over 6,000 users across the U.S. and Canada.
DeskManager DMS and the WebManager online marketing platform marketing are scalable solutions for car, truck, boat, RV and even airplane dealers. Both are priced aggressively to satisfy the needs of small independents, and can be expanded with a litany of high tech add-ons that allow them to serve the needs of larger franchise dealers. Above all else, AutoManager takes pride in its reputation for excellent post-sale support and service.