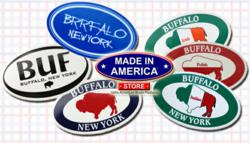 What's more important is why we are devoted to only 100% American made products
Elma, New York (PRWEB) January 15, 2013
Terranova Activwear brings 100% U.S. made products to the Made In America Store that help show Buffalo pride. The culture in Western New York brings iconic foods, sports spirit, heavy nationality influence and cold weather, all represented by the decals offered by Terranova.
The Made In America Store is changing the way that American see "Made In the U.S.A", click here to join the movement today.
Terranova brings shirts, dinner-ware and more to the Made In America Store that represents the Buffalo/Western New York area. From the iconic Buffalo silhouette to the "Another Day In Paradise" Parody Poster, Terranova hits the nail on head when it comes to Buffalo pride.
Recently, Terranova brought six new decals to the Made In America Store showing pride in individual nationalities and more, while showing buffalo. Irish, Italian and Polish are all represented with a silhouette of the Buffalo and use the colors of their national flags, respectively. The other decals show the buffalo in red with a navy blue ring, a black & white decal with traditional font reading "BUF, Buffalo, New York" and the last one comes in blue and reads "Brrfalo," a mock-up of how cold Western New York is.
Looking for American made decals that show Buffalo pride? Terranova at the Made In America Store is your Buffalo souvenir shop headquarters.
Terranova has been a vendor at the Made In America Store for quite some time, bringing 100% made in the U.S.A. products and souvenirs. The Made In America Store is making a point to the world that consumers can still find American made items, despite that it may seem futile.
"What's more important is why we are devoted to only 100% American made products," stats Dan Andol, Vice President of the Made In America Store. "If every component used to manufacture the products are of American origin, it means every single penny will stay stateside, saving and creating American jobs."
Terranova stocks the Made In America Store with Buffalo themed drink-ware, posters, scarfs, t-shirts and even magnets.
The Made In America Store is the only brick and mortar store that sells 100% made in the United States products from over 350 vendors. Consumers can visit http://www.MadeInAmericaStore.com or call 716-652-4872 to get more information or shop our catalog of over 3,500 items. Both Active Duty Military Personnel and U.S. Military Veterans receive a 10% discount every day. Followers of the "Made In America" movement can keep updated with the Made In America Store through Facebook, Twitter, Google+, Pinterest, FourSquare and even their own blog on Wordpress!