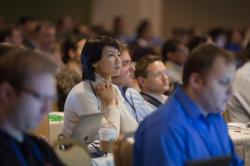 Toronto, Ontario (PRWEB) January 16, 2013
After big data, as they say, comes the deluge. At Predictive Analytics World (PAW) Toronto from March 18-21, 2013, the risks and opportunities of this data flood are being explored with the help of keynote speakers from American Express and the Boire Filler Group.
Big data has always been an integral part of predictive analytics, but data scientists have never seen anything quite like the torrent of the past few years. Now marketers are faced with the challenge of giant increases in the velocity, variety and – most especially – volume of consumer data.
This information needs to be analyzed and turned into actionable steps. Traditional structured data needs to be combined with unstructured streaming data from social media. And all of it needs to be done in record time.
To help digital marketers turn big data into profitable marketing streams:

Brett Mooney, Head of Consumer Card Acquisition at American Express, will discuss how big data can be used to improve decision science, develop more meaningful relationships with customers and enhance shareholder returns.
Richard Boire, Founding Partner of the Boire Filler Group, will look at how practitioners integrate the big data practices of the "old world" vs. the "new world to deliver effective solutions.
With four days of 20+ sessions, intensive workshops and networking events for all levels of expertise, PAW Toronto 2013 is the premier conference for predictive analytics practitioners. As a networking plus, PAW is co-located with Internet Marketing Conference, eMetrics Summit and Search Marketing Expo.
EARLY BIRD DISCOUNT:
Register before January 25, 2013 for PAW Toronto (March 18-21, 2013) and save up to $500 off the full price.
View the full agenda and see all the in-depth sessions available.
About Predictive Analytics World (PAW)
Predictive Analytics World focuses on concrete examples of deployed predictive analytics. Hear from the horse's mouth how Fortune 500 analytics competitors and other top practitioners deploy predictive modeling, and what kind of business impact it delivers.
Typical agenda topics and advanced methods include:
Big Data Analytics
Brand Analytics
Churn Modeling
Data Visualization
Financial & Insurance Services
Military
Net Lift
Recruitment Analytics
Retail
Spam Detection
About Rising Media
Rising Media is a global events producer excelling in Internet and technology-related conferences and exhibitions. Rising Media-produced events include Data Driven Business Week, eMetrics Summit, Conversion Conference, DemandCon, GAUGE, Predictive Analytics World, Text Analytics World, Affiliate Management Days, Building Business Capability, Social Media Economy Days, Web Effectiveness Conference, Search Marketing Expo, SemTech and Social Gaming Summit in the US, Canada, UK, France, Germany, Sweden, Finland and Australia.