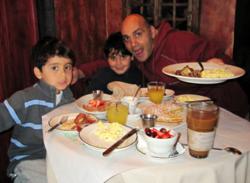 The children attending the Cooking with Phonics workshop will practice phonemic awareness, phonetics, repetitive use of high-frequency words and writing skills, all wrapped up with food
Milwaukee, Wi (PRWEB) January 30, 2013
Cooking with Phonics a creation of Lakeside Educational Services (LES) is geared for young children, age/grade level of K4, K5 and/or struggling 1st grade students, who are learning to read, and/or need to strengthen their early reading phonetic skills. LES was founded by Judy Cohen in 2002. The children attending the Cooking with Phonics workshop will practice phonemic awareness, phonetics, repetitive use of high-frequency words and writing skills, all wrapped up with food. To make this even more exciting it will be held at chef Michael Feker's Culinary Studio, CMFs School of Culinary Magic, adjacent to IL MITO Restaurant in Milwaukee.
As a culinary master with a great passion for food and cooking, as well as a father of three young children, Chef Feker has established a phenomenal commitment to healthy eating and food knowledge that he will pass to the children, in addition to a cooking demonstration showcasing his incredible culinary skills and food creations. Each session will include a customized booklet written for that session based on the foods the children will focus on for that session, and then to be practiced at home. In addition to reading and writing the children will learn about nutritious foods and healthy cooking with a culinary activity for the children after their lesson with Mrs. Cohen.
"I love cooking with my children at home. When Judy approached me about this project the culinary wheels in my mind starting turning and the idea of empowering young children with priceless healthy cooking tips and creating a love for healthy foods truly inspired me," chef Feker explains. "I simply had to do it and we are both very excited to introduce this concept to Milwaukee, and the world! "
Mrs. Cohen, is a 1974 graduate of the University of Wisconsin-Milwaukee-School of Education with degrees and licenses in learning disabilities, cognitive disabilities and emotional- behavioral disabilities. "After retiring from an illustrious 29-year teaching career in Milwaukee Public Schools, I simply could not retired from education," Cohen explains. "My mission and goal through LES is to coach/tutor children of all ages and grade levels, to achieve confidence, which leads them to greater academic success."
In addition, Mrs. Cohen is a curriculum consultant to multiple school systems in the state of Wisconsin. Through her specialty of organizational and study skills, and an emphasis in teaching children how to write with coherency, Mrs. Cohen has touched the lives of many children throughout the greater Milwaukee County area.
The workshop will be offered for 3 consecutive Saturdays:
March 2nd, 9th and 16th, 2013, 1:30-3:00 at
IL MITO Trattoria e Enoteca/CMFs School of Culinary Magic
6913 W. North Avenue, Wauwatosa
Fee is $170 for the 3-week workshop.
About Judy Cohen
Judy Cohen recently retired in June 2012, after an illustrious 29 year career with the Milwaukee Public School system. For the last seventeen years of her career in MPS, she had been a diagnostic teacher. Mrs. Cohen also owns Lakeside Educational Services (LES) in Milwaukee. LES specializes in academic coaching/tutoring, as well as, teaching and reinforcing organizational and study skills. LES also offers summer individual tutoring and summer writing/math workshops for children in grades 2nd-8th, as well as, a summer early reader BEAReader workshop for kindergarten children. Mrs.Cohen and her daughter, a teaching professional, have recently published a children's book, Mikey, about a young child with autism. The book will be released in early March 2013. Mrs.Cohen lives with her husband, Jeff, of thirty-nine years, who has given her constant encouragement to achieve her goals. She has two grown, married children and one magnificent granddaughter. In addition to tutoring, Mrs.Cohen loves to create her own culinary creations and spending time with her family.
About Michael Feker
In 1997, Feker's passion for beautiful real estate brought him to Southeast Wisconsin, and his love for a woman kept him here (his now wife Maricela and the mother of his 3 angels). Feker soon relocated himself and his restaurant to Milwaukee, where IL MITO premiered in downtown Milwaukee. Today Chef Feker's attention is not only on his restaurant, which is now located in Wauwatosa, in addition IL MITO East opens in January 2013 on Milwaukee's lower east side, but also on his intense passion for the culinary arts by hosting private dinners and cooking demonstrations and lessons at his Culinary Studio/CMFs School of Culinary Magic; he can be seen multiple times per week on Milwaukee's FOX6 including his own cooking show Feker's Kitchen; he provides an in-house cooking show for Aurora hospital's Skylite television network; Chef Feker makes various guest appearances and performs cooking demonstrations for events such as the International Housewares Show in Chicago, WI Wine and Dine to local charities like Milwaukee's Hunger Task Force and American Liver Association; Feker also serves as a culinary consultant for corporations such as Boelter Super Store, Fagor and more.