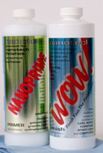 WOW! for boats helps impede slime and other build up, and makes what does grow much easier to remove.
(PRWEB) January 16, 2013
Since men first took to the sea, marine growth has been a problem. Most of today's boat polishes and waxes just sit on the surface and does not solve the problem. Breaking away from the mold of conventional polishes and waxes, Helmar Distributors introduces environmentally friendly Nanotech WOW! products.
Nanotech WOW products are designed to bond with the surface on a molecular level offering better protection and easier maintenance. Its environmentally friendly attributes are water based and contains no solvents, PTFE, silicone, petroleum distillates, oils or waxes. Additionally, it helps impede slime and other build up which is much easier to remove. The manufacturers claim that treating the bottom of boats with Nanoprime and WOW! Finish resulted in having little or no barnacles adhering to the bottom.
From a recent - very satisfied customer: "I've left my (jet) boat in salt water for up to three weeks at a time -- very dirty water at that --with little or no barnacle problem. At MOST, I had 2-3 tiny barnacles starting on the hull--nothing at all on the jets. I used WOW! on the hull before launch and white lithium on the jets before launch. The WOW! finish didn't prevent the mud and grunge from forming on the hull but made it very easy to get it off. All we used was water and a sponge--no heavy rubbing at all. WOW! is the best product I've found for this -- its Nanotech product that fills in all the tiny indentations in the surface, making it very difficult for anything to stick to it," says H. Lasse an avid Yamaha Jet Boater.
This Eco-friendly, water-based product WOW! is available from Internet merchant Helmar Distributors whose store is located in Hackensack, New Jersey. Helmar Distributors has sold WOW! for the past 2 years. During the past 30 years of using polishes and waxes on their boats, they have been on a quest to find the best waxes and polishes to protect the finish. Since the advent of Nanotechnology, their quest has become much easier.
"WOW! is better than ReJax - and certainly better than rubbing all day with Collinite, and leaves a showroom like shine. I've used it on my 47 year old Starcraft, and get compliments on the shine. Black streaks come off with plain water and the shine lasts." Says L. Enooue, from upstate New York.
WOW! is growing and being recognized among boating enthusiasts nationwide. To buy any of the WOW! products go to http://www.wowforboats.com.