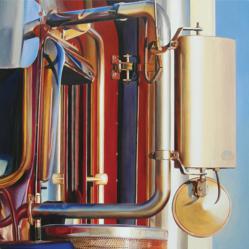 "Allan Gorman's ability to move effortlessly between realism and abstraction offers a unique and refreshing approach to contemporary painting."
– John Brunelli, Director, Anthony Brunelli Fine Art
(PRWEB) January 15, 2013
The Holy Family Art Gallery is pleased to announce the solo exhibition of Allan Gorman, Geometries and Reflections.
This 8-piece collection welcomes the viewer into an unusual world of abstraction hidden within reality. Carefully composed works, created with strong pigment and a skilled hand works are like eye candy of colorful shapes and forms. Gorman seeks out what is often overlooked and taken for granted and brings it to life, as seen in the unusual abstractions of "Red, White & Blue" or the captivating chrome grille reflective surface of "Pink Lady." These particular works highlight the fascinating, and often beautiful, geometries and reflections that surround us everyday.
There is no question that Gorman's works are every bit as much about composition and mood as they are about depicting objects. In all of his paintings, topics are approached with careful precision and a slant meant to idealize the subject matter and impress the spectators with the beauty found within them. The simplified, angular canvases with careful and intentional use of strong color also highlight the artists's affection for semi- abstraction, as well as the touch of his painter's hand .
Gallery curator, Pamela Flynn noted, "Allan Gorman's paintings have this haunting ability to make you fall in love with something you may not have previously noticed. You will never again look at the smoke stack or reflective mirrors on a truck or an overpass in the same way again."
Gorman is self-taught, and has been featured in more than 30 exhibits in the last few years, including the 2012 Mid Atlantic Painting Exhibition in Fredericksburg VA, and the NJ Arts Annual at the NJ State Museum in Trenton. He is represented by Anthony Brunelli Fine Arts in Binghamton, NY and by Lia Skidmore Contemporary Art in Santa Monica, CA. For details and information, visit the artist's website : http://www.allangorman.com.
The Holy Family Art Gallery at Holy Family University is dedicated to presenting art work that is varied in topic, presentation, and content. The purpose of the gallery is to add to the cultural, intellectual and artistic dialogue on the university campus. The gallery is a place to contemplate, enjoy and question and is located on the lower level of the John M. Perzel Education and Technology Center, 9801 Frankford Avenue Philadelphia, PA 19114 (215) 637-7700
For more information and directions please visit the gallery's website [http://mycampus.holyfamily.edu/web/art-gallery/1 __title__ Holy Family University Art Gallery]