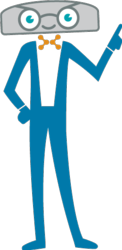 New York, NY (PRWEB) January 16, 2013
Brickstream, a leader in behavior intelligence solutions for environments where people shop, gather, work and play, today unveiled "Seymour," a character based on Brickstream's intelligent edge devices that monitors customer activity in retail environments, such as where and for how long customers are waiting in line. With the business intelligence that Brickstream delivers, businesses will be able to better serve their customers, for example, better managing their queues and limiting wait times. You can also find Seymour at his new Hate2Wait website.
"Consumers spend three years of their life, on average, waiting in line," said Steve Jeffrey, CEO of Brickstream. "Our hope is that with Seymour, we can help educate the market about how both consumers and businesses can benefit, by saving them from the frustration of waiting, and saving businesses from the lost revenue that results."
Onsite at the National Retail Federation show, Seymour will be walking the show floor inviting show attendees to learn more about his 3-D vision that provides unmatched accuracy with embedded tracking analytics. For every new Facebook "like" or Twitter follow Seymour receives at the show, Brickstream will donate $5 to the Hurricane Sandy Relief Fund.
For more information about this revolutionary Brickstream's in-store analytics technology, visit Brickstream's official website at http://www.brickstream.com.