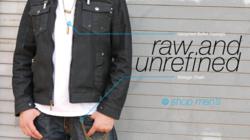 Stephanie Petro, Creative Director states, "Our men's duffel bag is a perfect example of the unrefined nature of these accessories. It's created using refashioned vintage vehicle leather and seatbelts." She adds, "The all-black duffel looks sleek and high
Scottsdale, AZ (PRWEB) January 15, 2013
Hearts fills the gap in the ethical men's fashion market with the launch of an exclusive men's line of trendy urban accessories. Inspired by raw and unprocessed materials such as naturally shed antlers, upcycled bullet shell casings, recycled glass beads, and vintage arrowheads, many of the pieces in the Hearts' men's line are one of a kind or limited edition. Created by Hearts in-house designers in collaboration with artisans in the USA and abroad, this eclectic yet sustainable accessories line is priced between $34 and $138.
Stephanie Petro, Creative Director states, "Our men's duffel bag is a perfect example of the unrefined nature of these accessories. It's created using refashioned vintage vehicle leather and seatbelts." She adds, "The all-black duffel looks sleek and high end, with an interesting contrast between the textured and perforated pieces from different cars, making each bag one-of-a-kind."
The unique vintage materials and the creative genius of the Hearts design team, combined with the practical yet high-end nature of the materials will make this new men's line a favorite for those seeking a way to express their commitment to an ethical lifestyle. This iconic men's line is just the latest example of a growing force for good within the fashion industry.
Employing a people and planet first value system that focuses on social and environmental sustainability, Hearts uses environmentally conscious materials and ethical processes that create a positive impact on people and the planet. At each step in the design, production, and distribution process, Hearts is careful to address specific social issues such as environmental sustainability, human equality, and fair employment.
Hearts has also made it a priority to educate people on the impacts of modern fashion in order to create a movement of conscious consumers who exercise their purchasing power for good. Using a fully transparent process by listing materials, artisan statistics, and manufacturing processes, the Hearts website provides an engaging and inspiring content experience.
ABOUT HEARTS
Hearts is an ethical-fashion brand that offers consumers beautifully designed bags and accessories that are fashion forward and socially conscious for men and women. Hearts diversified pieces are influenced through each global and USA based artisan's culture and their natural resources. Design styles range from vintage to cultural to modern influences. Each piece is made with people and the planet in mind. Additional Hearts collections for children and future women's apparel line are planned for the latter part of 2013. Hearts is a privately held web-based retailer headquartered in Scottsdale, AZ. Learn more at http://www.hearts.com.