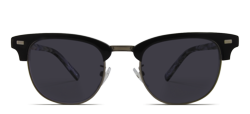 Houston, TX (PRWEB) January 15, 2013
Benji Frank, the Houston-based prescription eyeglasses and sunglasses line with frame styles named for U.S. Presidents, is proud to announce that they have provided sunglasses to Charlie Brotman, the President's Inaugural Parade Announcer, and his outdoor team to wear on Monday, January 21, for President Obama's second inauguration. The newly launched Houston-based e-boutique, BenjiFrank.com, made news with their innovative virtual try-on technology, has arranged for Charlie Brotman and his team to receive the most popular Benji Frank styles in multiple colors.
"We are delighted to provide presidential-themed sunglasses to Charlie Brotman and his Inaugural Parade team," said Benji Frank co-founders Azim Karedia and Mohsin Momin, college graduates from the University of Houston and Texas A&M University respectively. "Charlie Brotman is a legend and we are proud to provide Benji Frank sunglasses for this very historic day."
The e-boutique sells prescription eyeglasses with all frame styles named for difference U.S. Presidents, and gives shoppers the unique ability to see how each pair will look with their innovative virtual try-on technology and their Try 5 home try-on program. All Benji Frank sunglasses are made with Carl Zeiss Vision lenses, which are premium polarized sun lenses with 100% UV-coated sun protection.
"2013 will mark my 16th time as the President's Inaugural Parade Announcer," said 85-year old Charlie Brotman, a member of the Public Relations Society of America Hall of Fame, who has held this prestigious role since President Truman's Second Inaugural in 1949.
About Benji Frank
Benji Frank is a Houston-based online retailer that manufactures and sells designer sunglasses and prescription eyeglasses for under $100 a pair. All eyewear is made with the highest quality materials and crafted in the latest designer styles. Each pair is constructed of handmade acetate infused with vibrant color and assembled with custom metal hinges that are manufactured to Benji Frank's exact specifications. With each eyewear sold, the company helps restore the vision of someone in the world through its One Pair One Vision program. http://www.BenjiFrank.com