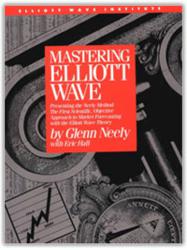 "Mastering Elliott Wave is the most in-depth approach to understanding and capitalizing on Elliott Wave analysis ever written."
Brightwaters, NY (PRWEB) January 16, 2013
Glenn Neely's timeless classic, Mastering Elliott Wave, is now available for immediate download as an e-book from Amazon and iBooks. Glenn Neely is founder of NEoWave, Inc. and an internationally respected Wave analyst.
The downloadable, electronic version of "Mastering Elliott Wave – Presenting the Neely Method: The First Scientific, Objective Approach to Market Forecasting with the Elliott Wave Theory" is available at these major online booksellers:

According to Jeff Schmidt, managing editor of Windsor Books, Mr. Neely's comprehensive book on Elliott Wave forecasting has been the publishing company's bestseller for nearly 2 decades. Why the ongoing demand? "'Mastering Elliott Wave' is the most in-depth approach to understanding and capitalizing on Elliott Wave analysis ever written – eclipsing every other attempt to harness Elliott Wave for profit," Schmidt says. "Glenn Neely's detailed, exacting and practical analysis presents sound market forecasting techniques that remain effective over time. Now this timeless classic is available as an e-book, which you can download in minutes from Amazon and iBooks."
Other top-selling e-books available from Windsor Books include:

"Intelligent Futures Trading" by Chick Goslin
"Superstar Seasonals" by John Momsen
"Techniques of a Professional Commodity Chart Analyst" by Arthur Sklarew
"The Secret of Selecting Stocks for Immediate and Substantial Gains" by Larry Williams
About Windsor Books
Established in 1967, Windsor Books has long been considered a valuable one-stop source for the best new and classic trading and investment publications on the stock, futures, options, and currency markets. Topics run the gamut from day trading and risk management to technical trading and Fibonacci analysis. Windsor Books provides a personalized, friendly, family-run bookstore for traders and investors in the United States and around the world. To learn more about Windsor Books – or to place an order – visit http://www.WindsorPublishing.com, send an email to windsor.books(at)att(dot)net or call 1-800-321-5934 Monday through Friday (9:00 a.m. to 5:00 p.m. Eastern time).