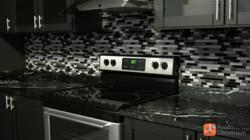 customers will soon have the ability to customize the site's virtual galleries even further by choosing between cabinet types,—whether traditional or contemporary—, cabinet colors, counter top styles and colors, and even knobs
Miami, FL (PRWEB) January 15, 2013
Leading tile supplier Mineral Tiles is collaborating with digital marketing company Room Dimension, to provide customers with an interactive gallery for their tile products. According to Mineral Tiles, a provider of tiles and tile design services on the web, the main thrust behind the partnership with Room Dimension is to give their customers an idea of how tiles would look after installing them in their homes, even before they make a purchase. This is made possible by Room Dimension's product visualization tool, which allows visitors on Mineral Tiles' website to create virtual visualizations of backsplashes using a selected tile, or tiles.
As of the moment, Mineral Tiles offers a kitchen as its virtual room where customers can render mockups of a kitchen backsplash using different mosaic tiles. Company representatives state that they will eventually add other virtual areas of the home, such as fireplace surrounds, bathrooms, feature walls, and even swimming pools, in the near feature, as well as more tile products, such as stainless steel tile and more.
In addition, Mineral Tiles' customers will soon have the ability to customize the site's virtual galleries even further by choosing between cabinet types,—whether traditional or contemporary—, cabinet colors, counter top styles and colors, and even knobs. Mineral Tiles believes these customization features allow customers to create a better and more accurate representation of their own living spaces, giving them a better overall shopping experience.
While virtual and interactive features such as the one found on Mineral Tiles are by no means new, the technology used by Room Dimension stands out for running smoothly and quickly, rendering high quality images in just a few seconds. Adding and shifting between mosaic tile products and customizations is also a breeze, as a Mineral Tiles representative was proud to say.
About Room Dimension
A company based in Miami, Room Dimension is exploring new ways to promote building material products by creating innovative and original marketing tools that go beyond what it calls the "cool factor," having an actual use in the real world.
According to its founders, Room Dimension was established with the goal of developing next-generation product visualizations tools that push the envelope in reality, usefulness and interactivity, helping improve people's online lives by providing a superior shopping experience.
Blending technology with art and years of acquired marketing knowledge, Room Dimension is proud to offer its product visualization tools to anyone on the web; from small startup websites, to blogs and big box retailers, Room Dimension has solutions for everyone.
About Mineral Tiles
Established in 2006, Mineral Times has forged a unique niche in their industry, deviating from the standard business model of operating a physical showroom where they can display their tile products. Instead, the company decided to operate exclusively online, showing tile products through their website, with visitors simply clicking on the purchase button to buy a product.
By dispensing with the traditional brick and mortar shop and full staff, Mineral Tiles and their customers are able to enjoy the benefits of flexibility and low prices for tile products. Besides their recently unveiled virtual product visualization feature on the site, Mineral Tiles also offers a sample program wherein customers can request for tile samples to aid in their purchase decision.
The company also offers tile design services to parties looking for assistance in designing their backsplashes and walls.