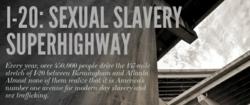 Birmingham, AL (PRWEB) January 14, 2013
A new film released by The WellHouse, a non-profit organization in Birmingham, Alabama explores Interstate 20 and its role as a major sex trafficking corridor. 
"I-20: The Sex Trafficking Superhighway," produced pro bono by Birmingham-based Lewis Communications, explains the depth of the human trafficking problem on this well-traveled route, the main east-west artery between Texas and South Carolina. 
The trailer for the film can be viewed at:ttp://www.youtube.com/watch?v=vwWsM6YV2zE
The actual 20-minute film can be seen at: http://www.youtube.com/watch?v=FAUCXlUcQvI
The WellHouse is led by Tajuan McCarty, a former trafficking victim who was rescued from the streets and has dedicated her life to helping others out of the bondage of sexual slavery. It is the only 24-hour shelter offering immediate housing assistance to women being prostituted in the Southeast. 
Food, clothing, spiritual guidance, Christian counseling, and other necessities are provided, along with assisting with referrals for substance abuse treatment, if needed. Life skills classes, GED preparation, and other enrichment services are part of the experience to help these women become self-sufficient and give them a sense of self-worth. The goal is for women to go on to live full and productive lives.
Other shelters have entry requirements undermining a woman's access to an immediate, safe environment, such as requiring state identification, proof of homelessness, and other prerequisites, which this population of women may not have. The WellHouse does not require qualifying information. While in the program, residents receive assistance in obtaining the identification and documentation they need  to rebuild their lives.
The WellHouse, http://the-wellhouse.org, is a faith-based and Christ-centered nonprofit organization offering immediate shelter and transitional housing to women who have been trafficked, are prostituting, or otherwise sexually exploited.
###
For more information or to schedule an interview with Tajaun McCarty, call or email Alexa James.