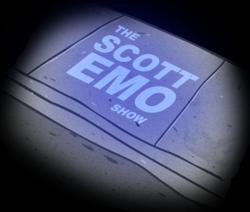 Healing and inspiring people since xx
Chicago, IL (PRWEB) January 16, 2013
The Scott Emo Show, an interactive talk show based in Chicago, announced today its new plans to start production in front of live studio audience beginning February 6. Host Scott Emalfarb began the show in 2012 with interviews of compelling characters and explorations of unique everyday moments on the streets of Chicago. Starting February 6, The Scott Emo Show will produce a live taping on a monthly basis.
"I'm ecstatic to take The Scott Emo Show to the next level. The show is ready to evolve and the new live format will allow for a more interactive platform for audience members to engage with our guests," said Emalfarb.
The first guests to appear on The Scott Emo Show are two amazing individuals who have both persevered in the face of adversity and have roots in the city's tumultuous South Side. Tio Hardiman, director of CeaseFire Illinois, has dedicated his life to reducing violence in Chicago. Five-time Grammy winner Malik Yusef will also be joining as the first live musical performance of the show. The first live show will take place February 6 at 8pm CST at Stage 773, located at 1225 West Belmont Avenue, Chicago, IL.
For additional information, please visit http://www.TheScottEmoShow.com.
About The Scott Emo Show:
Join Host Scott Emo on a journey to discover people, places and moments that offer transformative experiences for its viewers and everyone involved. The Scott Emo Show is an interactive talk show with the simple goal of unearthing unique characters, products and events that inspire and heal. With compelling episodes in front of a live-studio audience each month, the show consists of one-on-one interviews, Q&A sessions with the audience and live performances. Our subject matters range from hip-hop artists to spiritual leaders to shed light on diverse cultures and beliefs in order to achieve greater acceptance and understanding within our society.
Get Social
Facebook
Twitter
YouTube
Contact
Scott Emalfarb
The Scott Emo Show
info(at)thescottemoshow(dot)com
847.722.1128
http://www.TheScottEmoShow.com
###