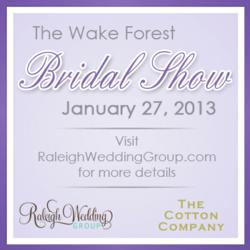 Wake Forest, NC (PRWEB) January 15, 2013
The Cotton Company has announced the premiere of the Wake Forest Bridal Show on Sunday, January 27, 2013 from 2:00pm to 5:00pm in their Event Gallery. The venue will partner with the Raleigh Wedding Group to provide an elegant afternoon of food and fun with dozens of local vendors on-site to assist brides with every aspect of planning the perfect wedding.
During this unique style Bridal Show, pre-registered brides (WFBridalShow.com) will be admitted for free and will be treated to delicious butlered hors d'oeuvres and champagne mimosas provided by Cannon Catering. The Event Gallery is a much more intimate setting than the huge NC Fair Grounds, giving brides the opportunity to relax and actually interact with their potential vendors to find just the right fit.
"We are very excited about teaming up with the Raleigh Wedding Group for this show," said Beth Jarvah, Director of Marketing and Events at The Cotton Company. "It is a great way for brides to meet the best vendors in the area while seeing our beautiful venue in action."
The Cotton Company is a boutique marketplace shopping destination located in the heart of Historic Downtown Wake Forest. The Event Gallery occupies the entire second floor and has a private entrance. This beautifully renovated venue has an open loft layout with exposed ceilings and landmark brick walls throughout offering a spacious area for receptions. http://www.thecottoncompany.net/
The Raleigh Wedding Group (RWG) is a marketing collaborative providing a platform for premier local wedding vendors to promote their services. RWG facilitates a website, media advertising, press releases, industry events, newsletters to Brides, social media marketing, increased SEO, and cross industry promotion for each of their members. Each vendor is carefully vetted by the RWG team for their reputation and commitment to service, which insures a level of professionalism that is the foundation of the RWG. http://www.raleighweddinggroup.com/request-application
For more information or to register for this Bridal Show please visit http://www.RaleighWeddingGroup.com or call 919-247-5090.