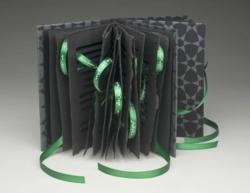 Santa Fe, NM (PRWEB) January 15, 2013
Santa Fe University of Art and Design (SFUAD) announced that it will host the traveling exhibition Al-Mutanabbi Street Starts Here in the Fine Arts Gallery on campus from Feb. 8 through March 22. The exhibition will serve as a special event within the university's 2012–2013 Artists for Positive Social Change series, the theme of which is "art and political activism."
Framed around the sixth anniversary of the al-Mutanabbi Street car bombing in Baghdad, Iraq, the exhibition presents artists' books that speak to the theme of intellectual freedom and the resilient human spirit. Al-Mutanabbi Street—located in the historic center of Baghdad and known as the heart of the city's literary and intellectual community—was the site of a car bomb explosion in 2007 that killed more than 30 people, wounded over 100, and destroyed countless priceless books.
The exhibition, which launched in 2012 and has already traveled to London, Los Angeles and Detroit, involves three book artists from Santa Fe—Lauren Camp, Suzanne Vilmain and SFUAD Art Department contributing faculty member Donna Ruff. The Santa Fe exhibition will be the only stop in New Mexico.
San Francisco poet and bookseller Beau Beausoleil founded the Al-Mutanabbi Street Coalition, the group of artists and writers that created the exhibition. He said the Coalition's goal is to show the Iraqi cultural community that the world will not be silent to all they have suffered, and that through a collective effort, some of the books lost in the explosion can be artistically "recreated." A total of between 50 and 100 books will be on rotation at the SFUAD gallery; visitors are encouraged to return to the exhibit throughout the duration of the installation.
"The project will help those who attend its exhibits and readings to see themselves on al-Mutanabbi Street and to realize that we share a commonality with the Iraqi cultural community," said Beausoleil. "The Al-Mutanabbi Street Coalition is not an 'anti-war' project, nor is it a 'healing' project. It is an attempt to have people see the bombing of al-Mutanabbi Street—and all its underpinnings—and not turn away. This street is not the resting place of this project, but rather the starting point for a cultural dialogue that recognizes the commonality of this street with any street that holds a bookstore or cultural institution, a street that intersects with so many similar streets within our own country and the world at large."
Events connected with the exhibition will begin Feb. 6 at 6 p.m. with special screenings of Iraqi films at Tipton Hall on campus. On Feb. 7 at 6 p.m., Beausoleil and the Santa Fe artists Vilmain and Ruff will participate in a panel discussion in Tipton Hall. On Friday, Feb. 8, the exhibition's opening reception will run from 5 to 7 p.m. in the Fine Arts Gallery.
An anthology edited by Beausoleil and Deema Shehabi called Al-Mutanabbi Street Starts Here(PM Press, 2012) will be available for purchase during the opening. Beausoleil is author of nine books of poetry, including Concealed in Language (Night Crane Press, 2003). Shehabi is author of Thirteen Departures from the Moon (Press 53, 2011); her work has been nominated for the Pushcart Prize four times.
"In addition to bringing this remarkable experience—and I use that word advisedly because this is much more than an exhibition—to the Santa Fe community, our students will have a very intimate interface with the work through Donna Ruff's spring semester book arts class," said Linda Swanson, chair of the university's Art Department. "This is the kind of expansive curriculum that challenges and connects students to their individual practices and the world."
For more information about the exhibition, watch the video at http://www.youtube.com/watch?v=y8tfIs6APE4&feature=youtu.be.
Other events within this year's Artists for Positive Social Change series have included a multimedia presentation by arts supporter and musician Tom Maguire called Barbarians at the Gate—Stravinsky, Diaghilev & the Ballets Russes and a simulcast of New York's Creative Time Summit on "Confronting Inequity."
About Artists for Positive Social Change:
Santa Fe University of Art and Design's Artists for Positive Social Change is a groundbreaking, university-wide series of events, lectures and performances that highlights one theme each year as part of a five-year initiative. All departments of the university engage in an in-depth exploration of the chosen theme, discussing the work of relevant artists who have respectfully and fearlessly pushed the creative boundaries of their medium. During the initiative's inaugural 2011–2012 academic year, Artists for Positive Social Change focused on hip-hop not just as entertainment, but as a significant form of communication and a cultural force around the world. This year's theme is "Art and Political Activism."
About Santa Fe University of Art and Design:
Santa Fe University of Art and Design is an accredited institution located in Santa Fe, New Mexico, one of the world's leading centers for art and design. The university offers degrees in arts management, contemporary music, creative writing, digital arts, graphic design, film, performing arts, photography and studio art. Faculty members are practicing artists who teach students in small groups, following a unique interdisciplinary curriculum that combines hands-on experience with core theory and prepares graduates to become well-rounded, creative, problem-solving professionals. As a Laureate International Universities Center of Excellence in Art, Architecture and Design, the university boasts an international student body and opportunities to study abroad, encouraging students to develop a global perspective on the arts. Santa Fe University of Art and Design is accredited by The Higher Learning Commission and a member of the North Central Association, http://www.ncahlc.org.
# # #