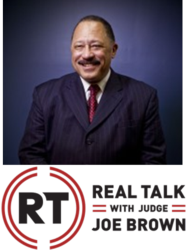 Los Angeles, CA (PRWEB) January 16, 2013
REAL TALK with JUDGE JOE BROWN is a three-hour nationally syndicated radio show set to debut in the summer of 2013. The show will be hosted by Emmy® Award nominee, Judge Joe Brown, Retired family-court judge DeAnn Salcido, famed comedian and Nickelodeon star, Aida Rodriguez and man about the world, Guru Cliff Stewart.
On television, "The Judge Joe Brown Show" is currently the second highest rated daytime courtroom program and the fourth highest rated overall daytime program, covering more than 97% of US households in 191 markets. After 14 years in syndicated television, Judge Joe let his contract expire at the end of 2012, and has chosen to pursue a 3-hour syndicated radio program – REAL TALK with JUDGE JOE BROWN as his next endeavor. This show is destined for success due to Judge Joe's direct, no bull, tell it like it is approach and his engaging style for revealing the truth. He will encourage guests to open up about their lives and share fascinating stories.
REAL TALK with JUDGE JOE BROWN will cover topics related to personal development, interpersonal conflict, politics, civic responsibilities, and all of the current hot button topics that engage the audience in ways that stimulate both supportive and opposing point of views. This life changing new show will feature guests with extreme and opposing point of views, and cover an array of themed topics ranging from community, social, political and relationship issues.
REAL TALK with JUDGE JOE BROWN will have live guests, including authoritative experts, opinionated celebrities and pre-recorded segments. Listeners will be invited to call-in to express their perspective, and additionally will be able to interact via Judge Joe Brown's mobile app, website and Twitter account. Judge Joe Brown is available for phone and video interviews, as well as photo opportunities.