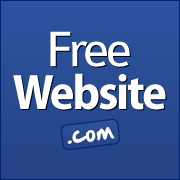 New York, NY (PRWEB) January 15, 2013
FreeWebsite.com published an article this week explaining why business owners should create a free website. The website provider encourages business owners and Internet users who need a personal site to visit the article and to find out what a free website can offer.
"Owning a piece of the Internet is essential for businesses in the 21st century," said a FreeWebsite.com representative. "The great thing about helping people create a free website is that we can provide anyone the chance to increase their sales and brand exposure."
According to FreeWebsite.com, when businesses create a free website, they can exponentially increase their reach to the local community. Since most people search the Internet for local services, without an Internet presence it will be much harder to bring in a lot of new quality leads.
FreeWebsite.com provides attractive business website packages, the least expensive of which is entirely free. Paid website packages are scaled up based on the features included. Paid features include email addresses, bandwidth for more monthly visitors, and a custom domain name.
To read the article, visit http://www.freewebsite.com/create-free-website/
About FreeWebsite.com: FreeWebsite.com breaks down barriers to website ownership by providing attractive, easy to maintain websites, complete with content, at a low price. To learn more, visit FreeWebsite.com.