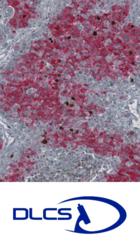 "Just as our seasoned staff of dermatopathologists have enhanced our capabilities with fluorescent in-situ hybridization (FISH) techniques, these dual stains give DLCS an edge in diagnostic capabilities in the fight against melanoma."
DAYTON, Ohio (PRWEB) January 14, 2013
Dermatopathology Laboratory of Central States (DLCS), an anatomic pathology and molecular diagnostics laboratory, today announces the availability of dual immunohistochemical (IHC) stains as adjuncts in the diagnosis of melanoma. DLCS will now offer dual stains for MART1/Ki-67 and MART1/PHH3.
While the majority of melanoma diagnoses can be accurately made based on conventional anatomic histopathology, many cases require evaluation of biomarkers to avoid either underdiagnosis or overdiagnosis.
"These dual stains serve as adjuncts to allow for a more accurate diagnosis of some ambiguous pigmented lesions," said Dr. Thomas G. Olsen. "While not a panacea, these new tools provide significant information for a number of challenging cases. Just as our seasoned staff of dermatopathologists have enhanced our capabilities with fluorescent in-situ hybridization (FISH) techniques, these dual stains give DLCS an edge in diagnostic capabilities in the fight against melanoma."
Proliferation in multiple cell types can be observed with Ki-67 (also known as MIB1). Similarly, cell mitosis can be observed with PHH3 (Phosphohistone-H3). However, according to Olsen, it can be difficult to determine whether the proliferating cells are melanocytes. Co-localization by dual staining of melanocytic marker MART1 with Ki-67 or PHH3 can resolve this issue.
Dual stains for MART1/Ki-67 and MART1/PHH3 are now available at DLCS and can be ordered on current biopsy or previously submitted formalin-fixed paraffin-embedded (FFPE) tissue. The turnaround is approximately 3-5 days. For information on how to order this test, please contact Dr. Michael Kent, Translational Scientist at DLCS at 1-800-532-3232 or mkent(at)dermpathlab(dot)com.
ABOUT DLCS
Dermatopathology Laboratory of Central States (DLCS) is an independent, national dermatopathology laboratory whose goal is to provide physicians with accurate diagnoses of skin biopsies. DLCS has a focus on quality, efficient service, and education – all essential to our dedication to patient care. For additional information about DLCS, visit http://www.dermpathlab.com.