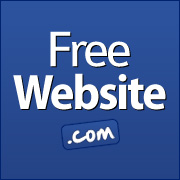 New York, NY (PRWEB) January 17, 2013
FreeWebsite.com, an industry leader in providing website hosting to small businesses, announced the publication of a new article on the topic of free hosting sites, and its importance to the success of small businesses, whether they are trying to compete with global corporations or with other local service providers.
A FreeWebsite.com representative said, "Small businesses have enough on their plates without having to tackle the high cost and technical challenges of building and maintaining a website, but in today's world, no business can successfully compete without a strong web presence. By offering free hosting sites to small businesses, we aim to give small businesses the boost they need to remain competitive, regardless of their industry."
In the published article, FreeWebsite.com points out the advantages of a professionally designed website to enhancing any business. Current FreeWebsite.com customers range from landscapers and home repair services to crafters selling their wares on the web, and all of them overwhelmingly agree that their website has been hassle-free and that the new, professionally designed website immediately boosted their business.
Free hosting sites eliminate the need for small-business owners to master web development techniques or the intricacies of e-commerce, while ensuring that each website has a strong Internet presence and high reliability for maximum impact.
"Many people assume their business is too small to need a web presence, but then they are amazed at the increase in their business when their sites go live," said a company spokesperson.
To read the article, visit http://www.freewebsite.com/free-hosting-sites/
About FreeWebsite.com: FreeWebsite.com breaks down barriers to website ownership by providing attractive, easy to maintain websites, complete with content, at a low price. To learn more, visit FreeWebsite.com.