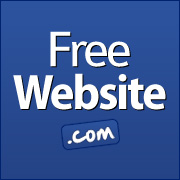 New York, NY (PRWEB) January 16, 2013
Industry-leading website provider FreeWebsite.com released a new article that speaks to the importance of websites for charities. Specifically, the article emphasizes why charity website templates can be advantageous to charitable organizations.
"Nearly everyone uses the Internet to research products and services," said a FreeWebsite.com representative. "If your charity is not online, it won't seem as legitimate and you're likely to lose potential donors. Even if you don't accept online donations, it's imperative to establish an online reputation and reach out to the community to generate buzz around your organization."
In the article, FreeWebsite.com points out the need for attractive and effective charity website templates. The article also shows charity organizations how to sign up for a free website with FreeWebsite.com.
Charity website templates built by FreeWebsite.com are fully functional and loaded with relevant content. Website owners are able to log on and edit their sites using point and click management tools. Paid website packages are also available to all individuals and organizations.
To read the article, visit http://www.freewebsite.com/charity-website-templates/
About FreeWebsite.com: FreeWebsite.com breaks down barriers to website ownership by providing attractive, easy to maintain websites, complete with content, at a low price. To learn more, visit FreeWebsite.com.