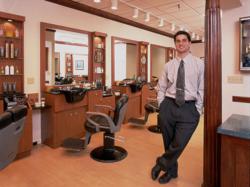 Gregory's Barbershop is proud to support Coaches vs. Cancer and the American Cancer Society again this year in 2013. Last year was a record breaking year for our fundraiser and we invite you to come out again this year to show your support!
Delmar, NY (PRWEB) January 15, 2013
Its that time of year again at Gregory's Barbershop!
Every January, the top barbershop in the Capital District according to The Times Union, Metroland Magazine, Capital Region Living Magazine, and Hudson Valley Magazine, will be holding its annual haircut-a-thon fundraiser for the Coaches vs. Cancer organization.
The event will be held on January 20 at Gregory's Barbershop at 318 Delaware Ave in Delmar from 10 a.m. to 2 p.m. The Gregory's Barbershop Coaches vs. Cancer event is being held the Sunday before the Coaches vs. Cancer basketball tournament at Siena College. This is the fifth year Gregory's has partnered up with the head varsity basketball coach and dean of students at Albany Academies, Brian Fruscio.
Coach Fruscio and his three sons are long time customers of the barbershops. Master Barber Gregory Zorian III approached Coach Fruscio with the idea of donating the shops and the barbers' time to give haircuts and shaves for a $20 donation. Many of Gregory's 20 barbers and staff members are on hand to help.
"We hit our goal of $2000 last year which is double the previous year's total. Please help us hit our goal of $2500 this year at our Delmar Barbershop. It is our goal this year to keep all eight chairs busy for the five hours. We have three TVs that will be on so don't worry about missing any NFL pregame shows or Championship games. We also have wi-fi available too." - Gregory Zorian III
Gregory Zorian III, who is a frequent presenter at all of the local barber and cosmetology schools, will be including a free lesson to any student who gets a haircut or brings someone in for a haircut.
As the premier Albany Barbershop for over 80 years, Gregory's Barbershop has been recognized in national publications such as Four Seasons Magazine and Travel and Leisure Magazine as well as profiled in the Milady's Standard Professional Barbering textbook used in barber schools around the country. In addition to the Coaches vs. Cancer event, Gregory's donates time and resources to many charities in the Capital District. Please help Gregory's Barbershop and the Coaches vs. Cancer organization make this year the most successful event yet.
In addition to his work as a barber, Gregory Zorian is an internationally recognized barber educator, workshop leader and consultant. Gregory's barber education website and training program HowToCutHair.tv has students throughout the world.
Serving residents throughout the Capital District, Gregory's also has a Clifton Park Barbershop located at 5 Southside Dr # 1, Clifton Park, NY 12065 (518)371-7400
For More Information:
Greg Zorian III
Gregory's Barbershop
318 Delaware Avenue,
Delmar, NY 12054
Shop Phone (518) 439-3525