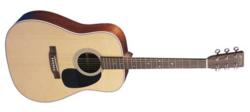 "The context of a Singer-songwriter is less about the style of music and more about the intimate relationship that the artist shares with the instrument; it is their sole form of accompaniment."
–AMS Expert
Oakland, NJ (PRWEB) January 16, 2013
Every musician has different needs when they look to purchase an instrument. Some need to be able to reach thousands of screaming fans, while others enjoy music in more intimate venues or even the comfort of their home. AMS' expert has chosen two different acoustic guitars that apply to guitarists on both ends of the spectrum, and particularly those whose focus is singer-songwriter style. The two instruments selected by the expert were the Martin GPCPA4 and the Martin D28.
In this excerpt from the guide "Best Martin Guitars for Singer-songwriters" the AMS expert explains the reason behind the early success of the Martin D28. The Martin guitar review can be read in its entirety on the AMS website.
"The Martin D-28 is a Dreadnought, which has been a popular model acoustic guitar for nearly 100 years. First introduced in 1916 and named after a class of battleship, the Dreadnought provided a much-needed service to musicians in an era when powered amplifiers were rare. The large body allowed for a level of projection not common at the time."
The expert explains why the Martin D28 was successful back in the early 1900's, and those reasons still hold true today. For guitarists looking for a big sound without the hassle of electrical amplification the D28's dreadnought style body is one of the best.
Professional musicians on the job need an extra jolt sometimes when playing for larger audiences. The Martin GPCPA4 allows for electrical amplification to reach every person in the building. This Martin is the expert's pick when guitarists' need a little power to get their point across.
The AMS expert had many factors to consider, as Martin guitars are all instruments worthy of praise. In determining the best Martin guitars for singer-songwriters the expert identified two instruments that would best fit the majority of singer-songwriters, which he thinks will make the largest impact on the musical community. To read the article "Best Martin Guitars for Singer-songwriters", or look at Martin guitars and more visit the American Musical Supply website.
###
Located in Oakland, New Jersey, American Musical Supply is a leading online merchant of professional and affordable musician equipment and supplies including guitars, amplifiers, live sound, DJ gear and more. AMS offers award-winning customer service and the AmericanMusical.com website has also been ranked in Internet Retailer's top 500 e-retailing businesses.