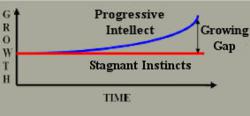 To be friends you need no reason, but to be enemies you must have a good reason. If so, then what renders man so combative, as the world has lived without war for only 41 days in the past 5,000 years? (Mark Abraham)
(PRWEB) January 16, 2013
The Interactions between Instincts and Intellect and their Impact on Human Behavior
One of the most significant secrets of the mind is the hidden and growing imbalance that results from the contrasting natures of the progressive intellect and stagnant instincts, shown in the graph. Humans' stagnant instincts impair human intelligence, and frequently lead all humans at all levels to unjustifiable mistakes. It resembles driving a vehicle with the emergency brake partially applied that wastes much of the power produced by the engine. Releasing the brake restores the full power. These principles also govern the relationship between instincts and intellect, demonstrable through endless real examples individually and collectively. Learning how to defuse these mental forces boosts wisdom.
This imbalance in the mind is reflected in the material world with far-reaching consequences. One needs to realize that all human endeavors fall into two distinct categories, behavior and accomplishments. All human and animal conduct is primarily driven by stagnant instincts, while humans achieve result from the function of the progressing intellect.
Humans' powerful instincts have molded the human condition from the start, and the unchanging nature of instincts has solidified it. Thus, human behavior today largely remains unchanged as our species continues to fight wars, lie, cheat, steal, and kill, just as primitive people did thousands of years ago. Unlike them, however, modern humans no longer travel on foot, but they cover vast distances in a short time with great ease, and now people can communicate from any point on earth to any other at will. This unmistakable imbalance in human progress derives from the fact that humans' scientific achievements result from the advancing intellect, while the stagnant instincts drive humans' unchanging modes of conduct. The constant progress in one realm and the stagnation in the other pose a huge danger for the human civilization; however, it continues to pass unnoticed.
Happiness in Wisdom, LLC looks at these instincts and intellect and offers an online test that will measure the strength of clients' instincts and how profoundly they impact human life in the most subtle ways. The company competes against Myers Briggs, DISC, The Big Five and other personality and behavior assessment companies all of which ignore the role of instinct in human behavior. This test reveals that Peoples' strongest instincts induce their deepest pleasures, and the temptations they create distorts humans' reasoning faculty and lead even the brightest humans to grave mistakes and problems and hinder their success. The test will report what these instincts are, how they interact with human intelligence that deludes human intelligence as they jointly issue the commands of everything every human does. It also suggests how to consciously manage these subconscious mental trends to maximize the pleasure these instincts create and minimize their potential harm.
Please visit, http://www.HappinessInWisdom.com, and for more information also see http://www.MeetYourMind.com. Mark Abraham can be reached at, mark@HappinessInWisdom.com., tweet, @happyinwisdom.