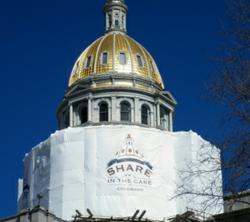 Westminster, CO (PRWEB) January 15, 2013
DH Glabe & Associates, a nationwide construction engineering firm, announces that it is has been selected by GH Phipps Construction to provide scaffold engineering services for the Colorado State Capitol Dome Restoration Project. DH Glabe & Associates was hired on to provide design of the weather protected access scaffold that will enclose the dome until project completion.
Originally built in 1908, the dome portion of the Colorado State Capitol building is primarily constructed of architectural cast-iron panels connected via hundreds of metal fasteners. After a forensic investigation in 2011, extensive damage to these panels and fasteners was discovered that was the result of years of weathering. Due to the deteriorated condition of the dome, the state of Colorado commissioned a project to repair the damage and make general façade improvements.
When developing the access scaffold design for the project, numerous restrictions were put in place to protect the delicate dome structure. This presented the engineers at DHG with numerous challenges. How is it possible to set a scaffold weighing hundreds of thousands of pounds on a fragile historic rooftop? How does one stabilize an enclosed scaffold without being allowed to bolt or fasten the structure? The DHG engineers were up to the challenge and were able to apply their engineering expertise to develop a scaffold design that met these demanding requirements. The design was put to the test in March of 2012 when the scaffold structure withstood recorded gusts of 70 miles per hour during a spring storm in Denver.
"This has been a challenging project that will further highlight the exceptional skills of all parties involved once the final phases are completed and the golden dome is restored to its original condition," said Donald McCuskey, P.E., project engineer for DH Glabe & Associates.
DHG anticipates final phases of the project to be completed in 2014.
About DH Glabe & Associates
DH Glabe & Associates was founded in 1985 under the name Western Falsework Engineering, Inc. Today, DH Glabe & Associates continues to be the leader in specialty construction engineering with an emphasis in scaffolding, shoring, formwork, falsework, re-shoring, erection & demolition plans, structural analysis, fall protection and product analysis. DH Glabe & Associates also provides expert witness services, davit & anchor testing, and OSHA training for scaffolding & fall protection. Our clients include general contractors, subcontractors, building owners & managers, equipment suppliers, manufacturers, government agencies, law firms and educational centers throughout the United States and abroad.
For more information, visit http://www.dhglabe.com