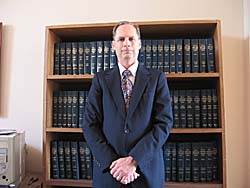 (PRWEB) January 16, 2013
The San Francisco Law Office of Scott Bassin is pleased to announce that it launched a new marketing campaign utilizing the combined marketing products and services of Hearst Media Services and the San Francisco Chronicle. The new marketing campaign will generate frequent press releases that showcase the firm's news announcements and help create an increased awareness of the services that the law office provides.
The law practice of Scott Bassin specializes in simple, prompt, cost-effective legal solutions. Probate Attorney Scott Bassin is cognizant of the reality that legal solutions can often carry with them large expenses. He strives to minimize expenses and avoid superfluous legal obligations that can extend beyond the finances of a majority of individuals.
"We are acutely aware that legal problems arise from numerous factors," said attorney Scott Bassin. "Every effort is made to create a protocol for solving legal problems. Our strong client focus translates directly to targeted legal strategies, which save time, and are cost effective."
The San Francisco Law Office of Scott Bassin is located at 3406 Judah Street in San Francisco. Scott Bassin is available Monday through Friday from 9:00 a.m. until 5:00 p.m. The practice accepts several payment options, including cash, check, Visa, Mastercard, American Express and Discover. In addition, payment plans are also available, as are flat-fee pricing structures. For complete information about the San Francisco Law Office of Scott Bassin, visit their website at http://www.bassinlaw.net, email Scott Bassin at scott(at)bassinlaw(dot)net or call (415) 523-5801 for a free telephone consultation.
About The Company: Scott I. Bassin, Attorney at Law has been proudly serving San Francisco for 30 years. Since 1981 Scott Bassin has been providing comprehensive legal services to San Francisco residents and surrounding Bay Area communities. For more information, please visit our website at http://www.bassinlaw.net.