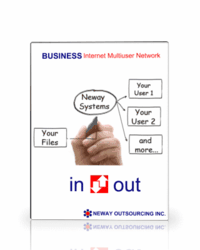 In and Out is THE WAY for effective business management, it is a NEWAY…. of doing business.
El Paso, Texas (PRWEB) January 16, 2013
NEWAY Outsourcing Inc., Software Division, launched last month In and Out Software, an instrumental business panel for managers to have better communication to be able to make important decisions that lead to growth by effective business management. One key feature In and Out Software offers is the ability to organize private networks. In today's topic we will discuss how this tool is essential for every business and benefits from using this tool correctly.
NEWAY's CEO, Sergio Chavez, has been in the business world for 35 years in different types of industry such as the automotive industry and textile industry. One common problem he saw managers faced was communication, the ability to effectively communicate with its key company members.
Reports, statistics, and strategic planning were not done in a proper manner. It was an issue of time, when a report got to the head of the department it was already outdated. The workplace is a fast pace environment, information is constantly changing and numbers that were true at morning are no longer by lunch time. There was a need to better communicate with key staff members and a way to effectively work with them.
By having a private network of key employees a manager can successfully communicate and make accurate decision that will take a company in the correct direction.
A private network consists of key players who are experts in their field and who contribute valuable assets to the company. A private network has key players that can be trusted to do their job effectively and with integrity.
With In and Out Software a manager can choose which members can join the network, can choose who are the key players for a specific project. In and Out Software allows the manager to have the ultimate control of managing the network which means better management of staff which turns to better management of the desire results.
Take advantage of this technological administrative development that NEWAY Outsourcing Inc., Software Division is developing and perfecting to provide more successful tools for business. Log on to http://www.softwareinandout.com for your free 30-day trial and/or e-mail at info(at)softwareinandout(dot)com for more information.
NEWAY Outsourcing Inc., was established in 2001 in El Paso, Texas. In 2012 it opened its software division. Creating In and Out, this worldwide online platform, is creating endless possibilities on the way business is conducted through out the world and how businesses interact with each other. It is a NEWAY… of doing business.