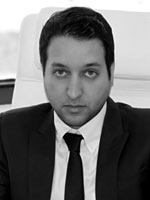 Beverly Hills, CA (PRWEB) January 14, 2013
The California personal injury attorneys of the BD&J Law Firm have produced an informational graphic about insurance companies and car accidents. As Los Angeles car accident lawyers, the firm's partners have handled thousands of accident injury claims with the US's major insurance programs. This experience has allowed them to study and learn the most common tactics these corporations use to make sure they don't pay full value for your accident claim. The graphic can be found by clicking here.
"People mistakenly believe that insurance adjusters are working for them. This simply isn't the case," co-founder and partner of the firm, Sean Banafsheh explained. "Insurance companies make billions of dollars annually, and they train their employees to protect that profit margin by paying out less in claims then they take in in premiums."
The graphic itself is divided into 2 different parts. The first details the outrageous profits that the top 10 US Insurance Companies enjoy on an annual basis. Those profits are compared to the Gross National Income of some of the world's wealthiest nations.
The 2nd half of the graphic details the 10 tricks that insurance companies use to try and get you to settle your case for less money than it is worth. Tactics like stalling, not offering to pay for medical bills, getting you to sign a document where you admit fault, and offering you an incredibly low offer at the beginning of negotiations are all tactics many insurance companies employ to help keep their coffers full of money.
"We have seen these tactics time and time again," Banafsheh remarked. "We have negotiated millions of dollars in settlements on behalf of our clients and have found that without proper representation, individuals have a very hard time receiving the compensation for what their accidents case is truly worth. These insurance adjusters know our firm by name and our attorneys by reputation. When we come in to negotiate they know we bring aggressiveness and experience to the table, and our clients benefit from that," added Banafsheh.
About Banafsheh, Danesh & Javid, P.C.
The Los Angeles personal injury attorneys of BD&J has been representing the injured for more than 10 years. The firm's partners have a combined 50 years of experience practicing California Law and they have a 97% success rate for the cases they take on. The firm takes on all manner of personal injury cases, including Los Angeles motorcycle accidents, car accidents in Los Angeles, truck accidents, dog bite cases and much more.
For a limited time, the partners of Banafsheh, Danesh & Javid, P. C., are offering free, no obligation consultations of potential cases. They can be reached 24/7 at 800-820-1111.