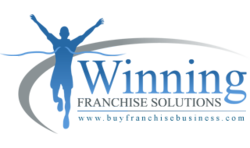 Naperville, IL (PRWEB) January 16, 2013
Naperville, IL, January 7, 2013—Pete Gilfillan accomplished in one year more than many do in a lifetime. That is why ActionCOACH named Gilfillan, owner of Winning Franchise Solutions, a finalist for the Entrepreneur of the Year category of the 2013 Business Excellence Awards.
"I think Pete Gilfillan is so well deserving to be Entrepreneur of the Year because of his stellar financial performance and the well-balanced life style it provides to him and his family," said Executive Business Coach Rick Crossland. "Pete's example here serves as a role model for other entrepreneurs and business owners around the world as to what is possible."
A former corporate executive and franchise owner himself, Gilfillan founded Winning Franchise Solutions out of a passion to help people achieve their dreams through franchise ownership. Now Gilfillan enjoys a comfortable lifestyle, an exciting career, and more time with his young family.
"I believe in betting on yourself and pursuing your dreams," Gilfillan shared. "Every day I get to match new entrepreneurs with their perfect opportunities and watch them flourish."
Winning Franchise Solutions, a franchise consultancy, connects successful business professionals with winning franchise opportunities, and guides them through the process of becoming franchise owners. That free service allows new franchise owners to speed through the start-up process and realize profits much sooner than a typical new business.
Consultants help candidates understand the benefits of owning a franchise business and minimize the risks. Working with a consultant, candidates can avoid costly mistakes and enjoy a smoother transition.
FranChoice, a franchise consultant group, recognized Gilfillan in 2012 as one of the top consultants, placing the newcomer in the company of consultants with over 10 years of experience.
Gilfillan's success was built on ambitious goals and hard work. But his candidates' successes prove true testament to his own.
"Pete is an invaluable resource for anyone thinking about getting into the franchise game," explains client Brian Pekny. "He takes the time to understand your needs and goals, and then works quickly to build a model and find options that fit your parameters. Pete makes the entire process of starting a business efficient and enjoyable."
A major business expansion is planned for 2013. Gilfillan recently launched a new company website and plans to add marketing education programs to the mix. To learn about how you can realize your dream of becoming a franchise owner, visit http://www.buyfranchisebusiness.com.
The Business Excellence Awards recognize small businesses that have taken their companies to "the next level" of success, according the ActionCOACH website. Finalists were named to 18 categories, including Entrepreneur of the Year. Winners will be announced at an awards dinner in Las Vegas January 25.