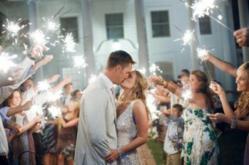 Miami Fl (PRWEB) January 16, 2013
VIP Sparklers is pleased to introduce their new heart-shaped wedding sparklers to their growing collection of sparklers and accessories for weddings, bars, nightclubs and celebrations. The sparklers are available as low as $0.62 each and may be used to frame an entrance way, create a tunnel for the couple or add an accent to wedding photography.
The heart-shaped sparklers come pre-packaged in custom-made white boxes available in quantities ranging of 6 to 144, although bulk orders are also available by phone or email. Also available are regular wedding sparklers, which start at $0.14 for 10" sparklers, and sparklers specifically designed for wedding cakes and desserts available in gold or silver.
The heart-shaped sparklers are just the latest addition to VIP Sparkler's product line. The company also recently added safety bottle clips for their line of champagne bottle sparklers, which are designed to look good while protected servers and party-goers from mild burns.
"Our sparklers are designed to make any wedding fantastic and memorable," says a spokesman for the company. "They are always safe to use and we guarantee the highest quality sparklers on the market. Our customers also continue to surprise us with creative uses in theme weddings and celebrations and we always look forward to new feedback."
Readers interested in learning more about the sparklers and novelty items from VIP Sparkler, including their confetti cannons and strobe battons, can visit their website at http://vipsparklers.com/ or one of their store locations in Miami, New York, Dallas and Los Angeles.
VIP Sparklers is a global manufacturer and supplier of novelty items and sparklers designed for all types of venues, including nightclubs and weddings. VIP Sparklers currently has locations in Miami, New York, Los Angeles and Dallas with more locations on the way.
VIP Sparklers
77 Harbor Drive Suite 34
Key Biscayne, FL 33149
(407) 545-1398
http://vipsparklers.com/
Sales(at)ViPSparklers(dot)com