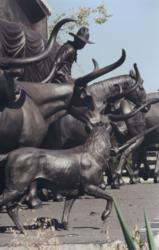 Thanks to the Heritage Center I now have the privilege of exhibiting works that, in their own small ways, continue to show my respect and admiration of the cultures that inspired the dreams of a seven year old."
Larry "Doc"Randolph
(PRWEB) January 15, 2013
Duncan, OK, http://www.duncanok.org The Chisholm Trail Heritage Center opened a new exhibit "Legends and Treasures". This temporary exhibit opened January 10, 2013 and will close March 20th, 2013. Exhibit includes two area artists as well as two collectors of Native American artifacts.
Myron Beeson is an extraordinary Native American talent. Three quarters Navajo and one quarter Hopi, he was raised on the Hopi Indian reservation near Second Mesa, Arizona. From an early age he imitated his elders while they practiced the age old traditions of painting, carving and making music. As he grew so did his talent and he went to study at Bacone College in Muskogee, OK. The college has strong historic ties to various tribal nations. He also studied at the Institute of American Indian Arts in Santa Fe, New Mexico.
Mr. Beeson not only carves wooden flutes in the ancient tradition, he can also play the flute beautifully and has created CDs of his traditional tribal music. A talented painter, Kachina doll creator, furniture builder and ostrich egg carver he states that "Painting and carving give me the time I need to relax both my mind and body and give me a sense of peace – it's meditation for me."
Also on display is the work of Larry "Doc" Randolph who states "At the age seven it was explained to me that no matter how hard I tried or how often I dreamed of it I would never get to be an Indian. I well remember the sadness involved when I put away my shield, bow and arrows, and my spear after that news. Over the years I have never forgotten those items and what making them with my own hands meant to me. That appreciation of the elegance of Native American shapes and forms and the artistic level of craftsmanship obtained by the use of primitive tools has never waned. My intention in these works is not in any way an attempt to duplicate Native American Art. They are simply emotional images that became visual reality after being filtered through my thoughts, appreciations of, and reactions to the real thing.
Thanks to the Heritage Center I now have the privilege of exhibiting works that, in their own small ways, continue to show my respect and admiration of the cultures that inspired the dreams of a seven year old."
Collectors Roy Dismuke and Mike Elkins are providing their treasures for viewing. Roy has been collecting points and artifacts ever since he was 8 years old. Mike Elkins has been collecting for 15 years. The exhibit will be up through the middle of March. Be certain to come visit the Chisholm Trail Heritage Center in Historic Duncan, OK and enjoy "Legends and Treasures".