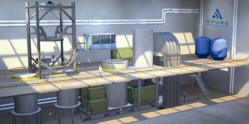 VÄSTERÅS, SWEDEN, and FRANKLIN, TENN., USA (PRWEB) January 16, 2013
Taking its expertise in contained high pressure to the next level, Avure Technologies has introduced TeraPi , an ultra-large Hot Isostatic Press (HIP) especially well suited to support the production of increasingly larger industrial components in the powder metallurgy (PM) market.
With a work zone over three meters in diameter and five meters in height, TeraPi significantly surpasses the world's largest existing press, the Giga-HIP system, also produced by Avure. That system, installed in Japan in 2010, features a work zone of 2.05 meters and is 4.2 meters tall.
Hot isostatic presses are used predominantly to strengthen or improve the mechanical properties of PM high alloy steel components, tool steels, and near-net-shape (NSS) PM steels and PM superalloys, plus post densification of PM, MIM, and cast parts. Applications include components such as impellers, turbines, and manifolds.
According to Dr. Anders Eklund, Business Unit Director of Advanced Material Densification Systems at Avure, powder consolidation comprises about half of all HIP throughput today, with abundant potential for growth both in new markets and in profitability.
The new TeraPi hot isostatic press adds a system of unprecedented size, capacity, and efficiency to an ever-growing family of HIPs designed and built by Avure. "The economies of scale made possible by Avure's new TeraHIP system will make HIP even more attractive as a production process," Dr. Eklund states. "A TeraHIP system three meters in diameter will keep running costs to less than SEK10 per kg."
The customizable TeraPi HIP has been redesigned with an innovative modular, multi-frame construction. The press's on-site vessel and frame assembly makes it easier to manufacture, transport, install, and service, while also removing the hurdles of long forging cycles and international shipping constraints.
The new configuration, which has separate floors for operation and maintenance, eliminates the need for a pit and an overhead crane and simplifies foundation preparation. Productivity enhancements include a high degree of automation for easy load handling and reduced cycle times.
"The super-size TeraPi will help producers of gas-atomized high alloy steel powders meet the demand for increased production capacity, which in the coming year alone is forecast to grow by 25,000 tonnes," Dr. Ecklund reports. The next-generation system also offers a productive alternative in the manufacture of water-atomized ferrous powers.
TeraPi's newly designed furnace is capable of handling large volumes of hot gas with a maximum temperature deviation of just +/- 10°C. Avure's Uniform Rapid Cooling (URC) technology allows the insulating capacity of the furnace to be interrupted in a controlled manner to shorten cycle times or to add a heat treatment into the HIP cycle.
ABOUT AVURE TECHNOLOGIES
An innovator with a strong record of accomplishment, Avure Technologies demonstrates its expertise in high pressure by occupying leadership positions in industrial and food applications. The company is the largest provider of ultra high pressure systems utilized to process advanced materials, form sheet metal, and pasteurize foods without heat or chemicals. It offers total solutions to keep food pathogen-free and fresh longer–from recipe development to installation of the fastest, most reliable high pressure presses in the world.
The Food Division located in Franklin, Tennessee, includes engineering, supply chain, parts, service, and, soon, manufacturing, in addition to the company's world renowned food lab.
Avure's world-class Industrial Division houses engineering, services, and manufacturing in Västerås, Sweden, with additional facilities in Columbus, Ohio, USA. For more information, visit http://www.avure.com.