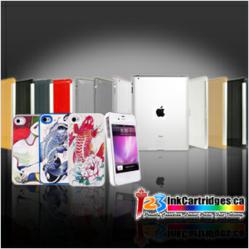 Lachine, QC (PRWEB) January 17, 2013
One of the leading online supply stores, 123inkcartridges.ca just added new accessories to their rapidly expanding inventory of products. The latest addition is a stylish magnetic leather wallet case cover with a built-in stand that is designed specifically for use with the iPhone 5. Presently, their inventory includes a wide variety of popular colors for customers to choose from. As always, 123inkcartridges.ca offers only the highest quality in their products and the iPhone case is made of high quality leather material which has a tasteful etched design. The exterior portions are soft and durable and the interior is a hard case in which the iPhone 5 is placed in order to be protected.
The company has added this latest accessory for the iPhone5 in an attempt to meet the needs of consumers who desire high quality products at prices they can afford. 123inkcartridges.ca has done just that by adding this fashionable accessory to their lengthy line of products. The company chose to feature this product because of the large number of consumers who use the iPhone 5 and need to protect their investment. The cover works as a stand for the phone, closes securely with a magnetic clip and provides essential protection for the iPhone.
The company is continually adding new products to their expanding inventory and the magnetic leather wallet case cover with built-in stand for the iPhone 5 is just one of the latest. Their vast line of products can be viewed on their main site at: http://www.123inkcartridges.ca/catalog/search?q=IP5-Croc where consumers will find reasonably priced products that are of the highest quality.
About 123inkcartridges.ca
The company as formed in an effort to provide consumers with the highest quality products while keeping the prices in an affordable range. They began by supplying customers with printer ink and toner cartridges. Due to the high quality products and low prices, the company grew rather quickly and they began to increase the line of products to include both printer and computer accessories. The official website: http://www.123inkcartridges.ca offers consumers a full line of quality products.