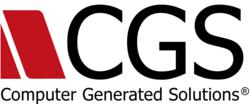 As the IT market continues to rapidly evolve, new skill sets are required for our workforce to truly capitalize on the innovation driven by our top minds globally
New York, NY (PRWEB) January 15, 2013
New York, NY – January 15, 2013 — Computer Generated Solutions (CGS), a leading global provider of technology software solutions and services, announced today it was honored with two of the nation's leading training and eLearning awards. CGS was selected as a Top 20 IT Training Company by TrainingIndustry.com and ranked eighth in The Top 20 Learning Portal Companies Based on Social Media by eLearning Industry. The recognitions further support the success of the Training and Learning Division of CGS as it continues to provide superior technology solutions and services to organizations, worldwide.
"As the IT market continues to rapidly evolve, new skill sets are required for our workforce to truly capitalize on the innovation driven by our top minds globally," said Doug Stephen, Senior Vice President and Country Manager for CGS Canada. "We're proud to be honored with some of the leading IT training awards and look forward to providing unparalleled assistance to organizations that need IT training support."
Every year, TrainingIndustry.com identifies the leaders in training solutions and services. This year, CGS was listed amongst the top 20 based on leadership and innovation in IT training, breadth of IT training and delivery methods offered, company size and growth potential, strength of clients and geographic reach. TrainingIndustry.com, a leading IT training publication, provides the latest news, articles, case studies and best practices within the training industry with a focus on helping dedicated business and training professionals get the information, insight, and tools needed to more effectively manage the business of learning.
With more than 30,000 professional readers per month, eLearning Industry is a top resource for industry practitioners, helping eLearning professionals share knowledge via social media and to build a safe online community of professionals involved in the industry. eLearning Industry chose CGS based on social media prominence per company, including Facebook fans, LinkedIn members and Twitter followers.
According to recent research from Ambient Insight, the US corporate eLearning market is expected to reach $7.1 billion by 2015. The eLearning and training industry is on the rise and CGS technologies and services are well poised for growth, as proven leaders in the space.
Supporting Resources
For the latest news and information follow CGS on the web at:

CGS Training and Learning Solutions
CGS Twitter
CGS Facebook
CGS LinkedIn
About CGS
For almost 30 years, CGS has enabled global enterprises, regional companies and government agencies to drive breakthrough performance through technology and services. Headquartered in New York City, CGS employs more than 5,000 professionals across North America, Latin America, Europe and Asia. With global delivery capabilities, expertise across leading platforms and deep experience in multiple industries, CGS has become the IT partner of choice for thousands of organizations worldwide. CGS delivers a wide array of proprietary and third-party business applications, technology, business services and business process outsourcing solutions, including customer care, technical support and corporate learning and training. For more information please visit http://www.cgsinc.com and follow us on Twitter at http://www.twitter.com/cgsinc as well as Facebook at http://www.facebook.com/ComputerGeneratedSolutions.